Cape May, New Jersey, United States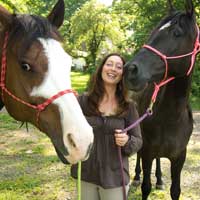 As a mid life crisis equestrian, Linda started riding at the young age of 48 and bought her first horse at the same time. As she progressed in her riding with her young horse she found that as they progressed, her horse would become compromised and then lame. Searching for a hands on way to help her horse she came upon the Masterson Method along with other body work methodologies. Linda found the Masterson Method system the most comprehensive and effective way to help her horse and continue to build her relationship with her horse while he recovered.
In addition as a new rider learning to feel for her horse helped her develop her horsemanship feel across the board, online and in the saddle.
During the process of learning this technique, She took the courses offered by Masterson including the equine anatomy course and continued to ride and work on her horsemanship as a Parelli student. As someone who takes matters into her own hands it was natural for her to want to help other horses. It was clear to her that the communication between body worker and horse was beneficial and a natural progression in to her next career.
The icing on the cake for her as life long learner is to find an organization with such an amazing group of people who never stop learning about the horse and are so willing to share their knowledge and experience. In coming from a successful business career she appreciates the top down culture of an organization. IF you have a leader who is willing to teach all they know it is natural to generate a culture of the same intelligent learners as well.
We can only get better at understanding our craft because we strive for excellence in ourselves and our desire to leave each horse better understood and on the road to healing, for our touch.
I am in Cape May, NJ in the summers and in Palm City/Jupiter in Florida in the winters.