Whitefish, Montana, United States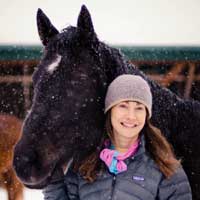 When I was introduced to Jim by a Ttouch practitioner years ago, I knew that Jim's work was exactly the missing piece for me as a horse professional. I trusted and went to a three day followed by a five day with Jim at Stanford. I walked away with the realization that in addition to what I was already doing, Masterson Method empowered me with more skills to relax and release tension and holding patterns from our 13 co-teaching lesson horses as well as a steadily growing number of client's horses.
My business partner and I own and operate Wholistic Equine Center LLC, a school that teaches Connected Riding, TTEAM, and bodywork to children and adults. They learn to ride with synchronicity in the movement without tension in their bodies. I have incorporated The Masterson Method into our program as a complementary method to enhance the functioning and longevity of horses. At Wholistic Equine Center people from all disciplines learn how to better understand the connection between restrictions and tension in their body, the horse's body and how it influences movement. Aside from Wholistic Equine Center, I travel to different ranches throughout our valley where I provide Masterson Method bodywork to everything from dressage, hunter jumpers, cutting, reining, pleasure and packing horses. Now that The Masterson Method is in my cells, I can't imagine life without it, and neither can my horses.