Tonasket, Washington, United States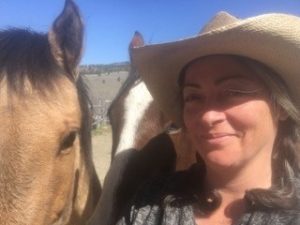 Jill began her journey with horses at an early age with the gift of a book of horse breeds from her great-aunt and then the purchase, by her father, of two ponies for her and her brother.  A life's journey brought about time with horses through US Pony Club and a few local riding facilities, but aside from her first pony, she did not get her actual first horse until 2012.  In the meantime, she played drums in touring and recording bands during the late 1990s and early 2000s.  She also studied and received a Bachelor's degree in Art History and Archaeology and an Associate's degree of Applied Technology in Massage Therapy.  Jill became a licensed massage therapist in 2004 and worked several years in a busy Chiropractor's office.  She got her license as a large animal massage therapist in 2010 and became certified by the National Board of Certification for Animal Acupressure and Massage.
Jill's years of experience as a massage therapist and continuing education in multiple modalities, combined with her equine experience, led to the natural progression of becoming a Masterson Method ® Certified Practitioner.  She currently enjoys her equine practice along with mentoring and coaching students within the fieldwork program.  She loves the challenge of improving her mentoring and coaching methods to better communicate with students.  She is passionate about the changes The Masterson Method ® has made in her own horses and those she handles and she is thrilled to assist at seminars with numerous instructors within the program to 'keep up her chops' as they say in the drumming world.  Jill is an avid reader and researcher, so she looks forward to adding several other modalities to her toolbox to complement this integrative technique.
Facebook@TrueHorseTherapy