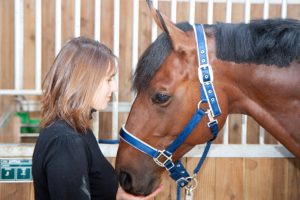 Je suis de ceux qui pensent que rien n'arrive par hasard. Les situations, les gens et les animaux entrent dans nos vies pour une raison, et cette raison est de nous aider à être de meilleures personnes.
J'ai rencontré Jim en 2018 lors d'une reconversion professionnelle. J'avais déjà fait une formation en France et était très curieuse de cette méthode américaine qui amenait des relâchements étonnants chez les chevaux… Et cette formation a changé ma vie ! J'y ai appris les techniques qui contribuent au bien-être et la performance des chevaux… et j'y ai surtout découvert ce que la bienveillance, le respect, la confiance, la tolérance peuvent déclencher chez une personne. Chaque jour de la formation, Jim et son équipe amènent ces valeurs avec eux. Je les remercie chaque jour de m'avoir montré que ce chemin existait. Donc pour moi, pratiquer la méthode Masterson, c'est donner le meilleur de moi-même pour aider les chevaux et les propriétaires à atteindre leurs objectifs, qu'ils soient sportifs ou de loisir, mais c'est aussi transmettre ces valeurs qui m'ont tant permis d'évoluer. C'est être dans la compassion et le respect des difficultés de chacun, de permettre aux personnes et à leurs chevaux d'exprimer qui ils sont et d'être dans la compréhension mutuelle.
Ce qui se passe lors d'une session est toujours juste. Les petits et grands changements peuvent avoir une énorme répercussion sur le couple cavalier/cheval, dans leur travail comme dans leur relation. Montrer comment lire les réactions du cheval, amener chacun à se comprendre est quelque chose qui me passionne.
Si vous ressentez le besoin d'aller plus loin dans votre relation à votre cheval, de renforcer votre couple, d'aider votre cheval à mieux fonctionner, d'améliorer ses performances et sa coopération à travers la communication, je serai heureuse de vous accompagner. Je me déplace en Ile de France et dans les départements 27 et 28. A bientôt !
English:
I am of those people who think nothing happens by chance. We meet situations, people and animals for a very specific reason, and that reason is to be a better human being. I met Jim Masterson in 2018 while I was looking for a new way of life and the least I can say is that it was life changing!
His method is a great way to help horses to feel and perform better and I am deeply passionate about that subject. What was life changing is the values Jim embodies and brings with him wherever he goes: love, compassion, respect, trust, companionship, tolerance. Jim and his team know that you can give your best when you are around people that let you express who you really are, without being afraid of judgement. And that's what happened to me and I thank them dearly for that. So, to me, embracing and practicing The Masterson Method® is about caring for the horses and their owner, but it's also about transmitting who I am and those values to the world. It's about giving my best during a session to help the horse and its owner to meet their objectives, in sport or leisure. It's about being compassionate, respectful of everyone's struggles, traumas, wounds and allowing people and horses to be just who they want to be. It's about giving love.
What happens during a session is always fair. Small adjustments and big changes to a horse can have huge repercussions to the couple's life, in their work and relationship. Teaching the owner how to read their horse, showing them what their animal is trying to tell them is a fantastic path that I reveal on.
If you feel like discovering a new path with your horse, a path where you both are in harmony with each other, communicating, loving and caring, contact me! I am happy to travel in Ile de France and within the 27 and 28 departments.