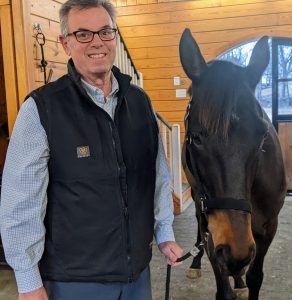 Unlike many of his colleagues, Steve's love of horses began late in his life. About 12 years ago, he had the opportunity to occasionally take the daughter of a close family friend to her riding lessons. He began recording her training classes, listening to the interactions, watched her refine her riding skills and eventually followed her to competitions in Virginia, where she is now a barn manager and an Area II Eventer. While observing her gentle, relaxed, but firm demeanor, she set the stage for Steve to find his own place "in the barn." Thank you, Jessie!
Two days after retiring from a financial services company in March 2021, Steve started volunteering at a PATH facility in Boyce, VA – Blue Ridge Center for Therapeutic Horsemanship. In May of that year, Natalie Conca, a MMES from Midlothian, VA came to the barn to conduct a training session for horse owners and staff. He witnessed the positive reactions from the horses and the deep horse/human connection achieved with the techniques.
He began his own certification training at Bridle Paths, outside of Leesburg, VA and is now continuing the journey of bringing integrated bodywork to equine therapy horses. Steve has had the opportunity to work with equine therapy and performance horses, and the results are truly wonderful to observe. He loves the calming and relaxing effect our bodywork has on the horses, while allowing him to be patient and completely present in the stall. Steve finds great satisfaction in bringing this gift to our hard-working equine therapy horses.
He is located in the beautiful Shenandoah Valley, framed by the Blue Ridge and Allegheny mountains. Steve looks forward to continuing his path to certified practitioner and is available to barns and facilities in Virginia, Maryland, Pennsylvania and West Virginia.