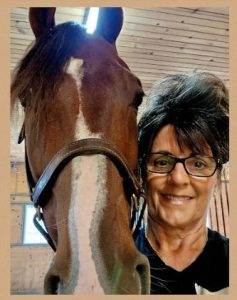 Sherri Sandona Kamenski, owner of ReVivEquine LLC and lifelong lover of horses, is an avid equestrian from Cedarburg, Wisconsin.  Sherri fell in love with horses during 4H and owned a thoroughbred horse and competed in Hunt Seat and equitation events throughout high school. With life changes and her parents being transferred to Ohio, horse life as Sherri knew it was put on hold with a focus on a career and starting her own family.  
Sherri worked for 27 years in the operating room as a Certified Surgical Technician, Surgical Assistant, Registered Nurse, and Team Lead.  She continued her education and obtained a BA in Integrated Studies for Computer Science and changed her career path to Electronic Health Record with a focus in Surgery, Pharmacy, Physician Order Entry and Oncology (with her passion as a breast cancer survivor – 2013) for a combined total of 44 years in the same health ministry – Ascension.  Sherri retired in August, 2021 and decided to combine her love of science and horses.
In August of 2021, Sherri started to volunteer at a local therapeutic riding facility in Midwest Wisconsin, working with clients with special needs.  Her passion for giving back to both clients and their equine partners was a perfect fit.  Additionally, her interest in providing therapeutic benefits towards the equine partners grew!  Sherri was already studying equine massage therapy certification through Holistic Animal Courses* when she was introduced to Jim Masterson at the Midwest Horse Fair in Madison, WI in April, 2022.  This was the inspiration to work with horses at a much deeper level!  
Sherri is a Certified Equine Myo-manipulative Functional Therapist (EMFT) and a student of Equine Craniosacral therapy.  She is also a Certified Masterson Method Equine Specialist (MMES).
She continues to volunteer at the therapeutic riding facility working with clients, providing equine bodyworks, and is part of a training team working with "Captain", a registered American Saddlebred (ASHA), to be a therapeutic riding partner.
*Holistic Animal Courses are reviewed by and are approved through the National Certification Board of Therapeutic Massage and Bodywork (NCBTMB), the International Association of Animal Massage and Bodyworks (IAAMB), the International Veterinary Chiropractic Association (IVCA), and other organizations.