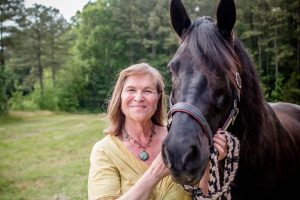 Jessica felt the call of horses late in life. Except for a few trail rides during Yoga retreats on a ranch, Jessica first began riding lessons in middle age. Her love & excitement quickly instilled a deep passion.
While she enjoys riding, Jessica is most interested in horses' profound ability to be in connection with humans. Jessica builds strong bonds with horses and they support her to be in her strength, emotionally & spiritually.
As a Psychotherapist certified in Somatic Experiencing, Jessica was immediately taken by the Masterson Method® bodywork techniques. She resonates with the idea that a horse can benefit from support to allow "stuck" traumas to move through their system and then return to homeostasis. After taking both the weekend course and the five-day program, Jessica pursued the MMES track. It is a perfect fit as Jessica believes horses are spiritual beings who have much to offer us. Jessica feels passionate about giving to horses who work hard to help people.
Jessica enjoys volunteering with an organization in Raleigh, NC that pairs rescue horses with at-risk teens. She cherishes the precious and powerful connection the horses so graciously offer her.