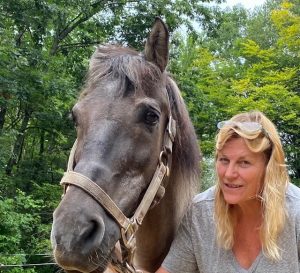 "I believe in the power of genuine connection between horses and people. Real time and life-changing moments take place through The Masterson Method®; always toward the
higher good for all involved."
Diane K.Brockett is a unique individual with gifts infused with knowledge in all of her work WITH horses and WITH people. She is not only an MMES, but also a Certified Equus Life Coach (Koelle Institue), a Reiki and Access Consciouness Practitioner, and a devoted student of The Horse Speak Practitioner Program launched in 2020. In addition, she is currently volunteering her services with Warrior Ranch Foundation with Veterans and First Responders in Calverton, NY. She thrives on gaining updated knowledge to assist and guide superior wellness between the horses and people she is requested to collaborate with.
Diane is also a very proud mother of two beautiful and accomplished young women as well as a fabulous horse loving granddaughter! She has also enjoyed a successful 35-year career as a Special Education teacher on the East End Of Long Island, NY. Although she primarily works with horses now, she and her daughters were also quite successful puppy raisers and advocates for Canine Companions for Independence from 1998-2009.
Diane is well known, locally, as the one that doesn't give up easily, and often reaches those horses, children, and a few adults that seem a bit more challenging to others! Her determination rises from her heart and most feel they have received gifts through her work WITH them and their horses. She believes we are here to serve one another and looks forward to each horse breath she encounters and their peoples' smiles as well!
Please contact her via or call her 516-242-7477! She hopes to have her website up soon!