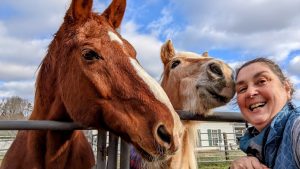 Born & raised in Germany, Christine has loved horses since she was a child. She began riding at age 8, and at 14, she rescued a Haflinger. While learning classical dressage, she could often be found on a trail ride with her best friend and their Haflingers.
A move to the US in the 90s and 3 children later, Christine's passion for horses was rekindled when, in 2014, she met and purchased a stubborn Haflinger (Tommy) at Rosehill Inn & Stables in Monroe, NC.
Shortly thereafter, the Equine Facilitated Learning program at Rosehill, Two Hearts One Language, was founded. As a volunteer, she experienced the healing power of equines firsthand however, she also acknowledged the impact the sessions had on them.
Her interest in the well being of the horses used in EAS programs peaked when she attended the "A Horse is a Horse, of course" symposiums in Germany and in Pennsylvania. Being around so many like minded people was fantastic.
After witnessing the magic of a Masterson Method Certified Practitioner at her barn, she completed the Masterson Method Equine Specialist Course during the COVID epidemic.  In August 2020 Christine adopted a Canadian Warmblood, who thoroughly enjoys bodywork and has the most amazing releases, including the downward dog Yoga pose, making the fieldwork portion of the MMES certification lots of fun.
Christine completed the MMES Certification Program in April 2022. She is delighted to be part of the Masterson Method® family and is excited about the opportunities to work with local EAS type programs.