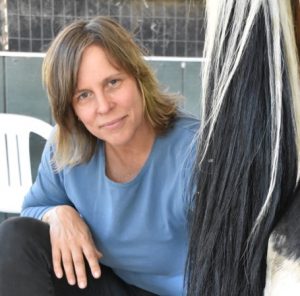 Amelia rekindled her love for horseback riding when she and her daughter started riding lessons in 2009. Her riding skills range from Western Pleasure in Palos Verdes to Working Equitation in Lake View Terrace and she is happy to try any discipline.
An avid learner, Amelia obsessively watched natural horsemanship videos, learning techniques to upgrade her ground work and riding skills.
Landing on a video of Jim Masterson demonstrating lateral cervical flexion, she immediately purchased his Beyond Horse Massage book. The next day she tried it herself by searching for a reaction on a horses' neck and she was completely hooked by the time the horse started to lick and chew. She had found the connection to horses she'd been looking for and she started volunteering at a local horse rescue to practice as much as she could. Each day since has been a deepening of the horse/human connection and a clearer understanding of what the horse is trying to convey through body language. While completing the fieldwork for certification, some horse owners were interested in learning about the method, so Amelia taught them the basics of Search-Response-Stay-Release. The beauty of seeing someone's face light up when connecting with their horse remains her favorite part of The Masterson Method®.
Besides her regular clients, Amelia continues to volunteer at rescue and therapy barns and she enjoys using this method with all equines, even when they cannot be physically touched. Additionally she became certified in the Masterson Method Equine Specialist (MMES) program which which has deepened her understanding of equine bodywork and how to teach handlers and volunteers about the horses they care for.
Amelia has expanded her role to become an Instructor of the Light to the Core Course and hopes to inspire students of all types to find deeper connections with horses.
Culver City, California , United States