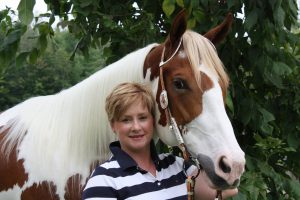 Kathy has had horses since her teens. She enjoys showing both western and dressage.After 30 years in the hair salon industry she was looking for a change and wanted to pursue working with animals.
She met Coralie Hughes , MMCP at Equine Affaire and after a nice conversation and purchasing the book and DVD she registered for a weekend seminar seeking its benefits for her own horses. Being able to communicate with horses at this level was simply amazing. After the seminar and seeing the benefits of the bodywork in her own horses had her committed to learning more. She made the decision to become a certified practitioner.
Kathy also owns her own dog grooming business and is a trainer/instructor for Brenda Aloff. She enjoys competing in agility and obedience with her dogs and hopes to benefit her canine friends with the Masterson Method too!
She is looking forward to working with and learning more about our equine friends.