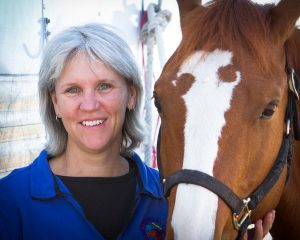 Jane grew up riding in Virginia and has a B.S. in Animal Science from the University of Tennessee. She became a Masterson Method® Certified Practitioner in 2014 and her bodywork sessions engage the horse and address their individual needs. Using the Masterson Method® and Upledger Equine CranioSacral, Jane supports the horse's movement, attitude, performance, and well-being.
As a NC Licensed Massage and Bodywork Therapist, her clients tell her that their shoulders feel softer and their overall flexibility improves after a massage. Her equine clients are just as expressive as they release tension with a stretch, snort, shake, or yawn. And because horses often mirror their rider's tension patterns, Jane can do a chair massage at the barn, so both horse and rider will feel balanced for their next ride!
Inviting the horses to participate in the session, listening to what they have to say with their responses and releases, and the positive feedback from their owners are why she loves using the Masterson Method®.