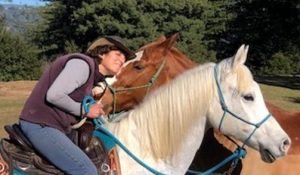 Like so many others, I have been in love with horses ever since I could remember. Not being able to own one, I had a great collection of Breyer horses, I drew them, pretended to BE one, and I rode at the local rental stable whenever I could finagle it.
I worked at several Thoroughbred Ranches and an Arabian Ranch during my teen and college years. I rode hundreds of horses, especially the ones no one else wanted to ride. I was attracted to the difficult or challenging horses, and although I never had lessons, I found the horses taught me how to communicate with them if I listened carefully.
I finally got my very own wonderful (and once upon a time, very challenging) mare when I was 45, and she has been an incredible teacher. She has also been a Masterson demo horse many times and she is a HUGE fan of The Masterson Method®. I also own 2 other horses and a rescued donkey, all who benefit from my new skill set.
I had always wished for a career working with horses, but until now, with the Masterson Method®, it hasn't been possible. I earned a BA in Psychology, focusing on physiological psychology and animal studies. I spent 10 years in retail management, then while my children were growing up, 20 years as an Art Teacher for K-8. I am also an accomplished artist, horses not surprisingly being my favorite subject. During these years, I rode as often as possible, moving cattle and checking fence lines on the family cattle ranch, and riding any horses that came into my orbit. I studied every book I could get my hands on, read magazines and immersed myself in anything equine, soaking up knowledge along the way.
I was introduced to The Masterson Method® by a dear friend who was working on her case studies, which included my horse. I was absolutely fascinated by this bodywork and the amazing responses my horse displayed, which translated into fluid movement after her sessions. I became a self-avowed Masterson Groupie for several years eventually taking the Weekend class. Years later, I took the 5 Day class, which I loved so much, I never wanted it to end. After that, I jumped right into the certification process, where I acquired much valuable knowledge and experience.
I have trained or helped train many horses over the years, one thing I found is that pain can be a huge cause of unwanted behaviors in horses, and it is always a good idea to rule out physical issues with horses when they have behavior issues. Finding Masterson and being able to help my own horses, as well as other horses was a game changer for me.
I embrace mindful horsemanship and I strongly believe The Masterson Method® is perfectly aligned with those concepts and integrates beautifully. Working WITH the horse rather than ON the horse, carefully gauging the horse's responses, staying inside the brace response, all help to allow the horses to let go of their tension, achieve relaxation, can restore more fluid motion and increase the level of comfort a horse is feeling. I have yet to find a horse that cannot benefit from this wonderful and always amazing work.
I work in the Santa Cruz and Weaverville areas.