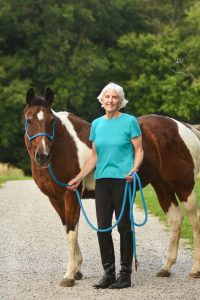 I've always had a passion for animals and became smitten with horses while taking riding lessons.  I loved everything about learning to ride, and found my "happy place" at the barn, taking in the sounds and smells, meeting and making friends with like-minded people, and enjoying everything from cleaning stalls to cleaning tack.  I still do!
After coming home after a lesson one day, I told my husband, "I'm going to own a horse someday".  That dream came true when we moved to Connecticut and bought property with a barn.  I acquired a deeper appreciation of horses when I became a horse owner and began caring for them everyday.  Perhaps because of my background in Social Work, the more I observed their behaviors and interacted with them, the more interested I became in the horse's health and well-being.
I was having some physical issues with an older mare I own when I first learned about The Masterson Method® from my sister.  She had seen Jim Masterson doing a demo at the Minnesota Horse Expo and sent me the Beyond Horse Massage book hoping it may be of some help.  In bed that night, I began reading as Jim explained how to help horses relax and I studied the techniques on each page.  The next day I took the book with me to the barn and tried the Bladder Meridian technique on my mare.  I was so excited from the positive responses I received from her that I wanted to learn more and went on to become an MMCP.
The ability to engage with a horse in order to relieve tension is what I like best about using this unique form of equine bodywork.  I have also completed training in and utilize myofascial release and craniosacral techniques in my practice. In addition to working with horses I also enjoy assisting at Masterson Method Seminars where I still find satisfaction in meeting and making friends with like-minded horse people and spending time in my happy place at the barn.