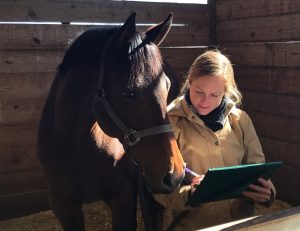 Elaine has always loved all animals and has been riding and caring for horses for over 30 years.  Her first introduction into the horse world was in El Paso, TX where she learned to ride Western not only for shows but also gained the skills for common mounted ranch work.  Eventually, she gravitated to the English disciplines and participated in Show Jumping. Upon moving to Central Texas, Elaine joined the US Pony Club.  She is a Graduate C-3 Pony Clubber and has successfully shown Quarter Horses, Thoroughbreds, various pony breeds, and an Anglo-Arabian.  Currently she is enjoying the training journey with a Hanoverian and a Connemara/Hanoverian cross.
Elaine became interested in The Masterson Method® as a way to help her senior horse age with grace.  She was amazed by how allowing the horse to take part in the sessions the deeper her connection with her horse became.  Soon she was practicing on her other two horses and quickly seeing improvements in their work under saddle.
Elaine is amazed at how light/soft The Masterson Method® techniques are, and how they not only work on horses that are in steady work but, they also provide a lot of relief for senior horses.
Elaine is offering Masterson Method® bodywork sessions throughout the greater Austin area.  Other locations are possible with prior arrangements.  She is also available for demonstrations if your barn or horse club is interested in learning more about this amazing bodywork.