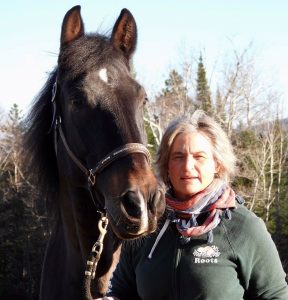 Diane is a certified Masterson Method® Equine Specialist. She started riding at the age of eight, taking lessons at equestrian centers. At 12 she had her first horse and all her youth was spent in stables trail riding and show jumping. In her thirties, professional activities took her away from the equine world, but during a trip to Iceland on horseback, she quickly realized how much these extraordinary communicators that horses are were missing in her life.  On her return from her trip and through a chance encounter, she returned to horse riding by taking charge of a magnificent horse struggling with a stereotype.
In order to better understand her horse and to help him, she became interested in the way horses communicate with each other. It was especially with the help of an American trainer who did an extensive study of calming signals that she understood the value of "less is more" with horses.
She then heard about the Masterson Method® based precisely on lightness. The training offered specifically for equine specialists has proven invaluable in her collaboration at a horse-facilitated coaching center.
Not only is she now better equipped to help horses quickly go back to their natural state of calm and peace, but she can also help humans communicate with their horses on a deeper level.