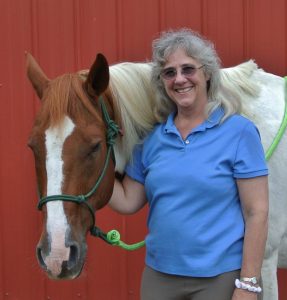 Deb's life with horses began when a series of adventures and misadventures in Mexico left her alone on a jungle trail on a horse. Having no experience with horses before that morning, Deb was mystified, curious and apprehensive — because she couldn't read the horse. Is he OK? Is he afraid? Will he run off with me or rear? Why is he doing that with his ears? That was the beginning of Deb's quest to understand horses.
Back home, she was fortunate that her first inquiries about riding instruction lead her to Centered Riding and valuable learning about how horses respond to our breathing, our center, soft eyes, and relaxation in our bodies.
Many years, lessons, clinics and half leases later, Deb saw Jim Masterson demonstrate the bladder meridian and other techniques at Equine Affaire in Springfield Massachusetts. Drawn by the (apparent) simplicity and power of the Masterson Method, and the importance given to reading the horse, Deb began learning on her own and soon enrolled in the Masterson Method Certification Course. She earned her certification in 2016.
Continuing her studies in reading the horse, Deb is now participating in a three year training program, the Deepening in Horse Language, taught by Piet Nibblelink.
So many of our interactions with horses are all about what we humans want, our goals, plans and agenda for the day. As a Masterson Method Certified Practitioner, Deb loves being able to be with and give back to horses in a way that is all about what they need and are ready to change in a progression towards greater flexibility, range of motion and comfort.