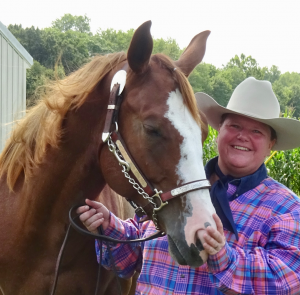 Getting into horses at a young age, I was able to get the full 4-H experience and meet some great people and trainers along the way.  I participated in 4-H judging team learning to evaluate many different breeds including miniatures, Arabians, warmbloods, Saddlebreds, and draft horses.  Those experiences made me decide to become a 4-H leader, coaching the judging team and helping the kids progress all the way to the Nationals in Texas and coaching the hippology team for several years.
Besides the knowledge from great 4-H leaders and trainers, I have been fortunate to have other people around me from several disciplines, allowing me to learn Dressage, 3-day Eventing, Western/Hunt seat all-around, and driving.  While I enjoyed learning about and showing in each of these disciplines, I realized that my heart leaned toward training my own horses using Dressage fundamentals. Using these principles, I was able to take my Paint horse in all-around events all the way to Paint Horse Congress.
Thru this process, I met a great woman who has been a mentor for life.  She taught me a tremendous amount about Dressage and how a horse should move properly and different techniques that help the horse stay biomechanically sound and balanced for a long and healthy life.  She also opened my eyes to the world of Equine Massage Therapy, which at that point, was barely known in the horse world.  She taught me how to work on my own horses to overcome their weaknesses and my own.  Over the years, with training, showing, trail riding and helping friends with their horses, I have realized how beneficial Massage and Bodywork can be for our Equine partners.
So, here I am, following my heart and seeing where the next part of my journey leads.  I received my first certification thru Equissage to work on horses and dogs.  I am blessed to have now completed The Masterson Method® Certification in 2021 which has continued my growth and given me even more knowledge and hands on training to help horses more naturally.  I truly love working with the horses and dogs to enhance their natural abilities and talent, and be a part of their health care team.
I am always traveling from Boonville, IN (Evansville area) to Alexandria, KY (Cincinnati, OH area).