Moulton, Iowa, United States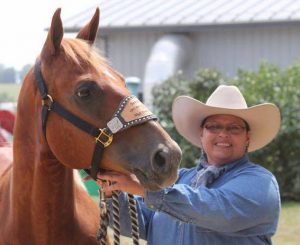 Terri has had a passion for horses since she was born. She grew up on the family farm in the rural Stockport, located on the southeast corner of Iowa. When a family friend loaned them a pony when she was 5, the love for horses grew from there. Starting out riding in western pleasure, showing at local shows to later, training & competing in AQHA shows, in western pleasure, horsemanship and reining. After some urging from a close friend in the late 80's switched from the show arena to the rodeo arena, competing and training barrel racing horses. Terri & her husband live on a farm near Moulton, IA, and raise beef cattle, she still trains and competes at barrel racing events, raising and training the horses she competes on.
In 2001 she and 2 business partners formed CKT Barrel Productions LLC to promote and produce quality barrel races in southern Iowa. In 2006 after watching chiropractors work on performance horses for years, started researching equine bodywork as another alternative therapy for barrel horses, found a hands on clinic in her area specializing in body balancing, after that weekend saw the great benefits it provided her horses and went on to attend and assist in teaching others in the benefits of body balancing. In 2013 a close friend and body balancer she had worked with for years, had heard about the Masterson Method and suggested they enroll in a weekend bodywork workshop to "add another tool to the toolbox", after the weekend clinic and seeing the benefits first hand, and the definite improvements in the horses in the way they worked and performed after just one session, Terri decided to pursue her Masterson Method schooling and become a certified practitioner. She has worked on a wide variety of horses including, reining, barrel racing, Thoroughbred & Standardbred race horses. She can be reached by phone or email.