Norwich, United Kingdom, Global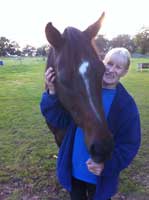 Rosie Hume grew up around horses, helping her grandfather look after hunters. However she had a break of about 30 years after leaving school until a chance comment got her back into horses and ended up with her being given a horse. A couple of years later Rosie took on board another horse and it was discovered that he had severe back and neck issues and needed a lot of chiropractic and veterinary treatment. This really emphasized how much horses will hide their pain.
In June 2011 a friend persuaded Rosie to go to one of Jim's weekend seminars. Being a horse owner with limited experience she thought it would be 'above her head', but went anyway thinking that she might learn something to help her horse in-between chiropractic treatments.
Half way through the first day Rosie had a 'I want to do this' moment. She loved the way that the method listened to the horses and watched their responses. It fitted in so well with how she was working to rehabilitate her horse. This was the start of the journey towards certification. Rosie believes that horses are excellent teachers if we are prepared to listen to them and they didn't let her down during the certification process, each horse she worked on taught her something new.