Center Hall, Pennsylvania, United States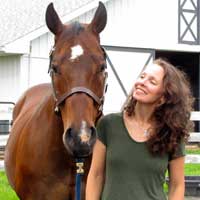 For me, it all began when my American Quarter Horse, Jacob, started to exhibit a lameness that could not be easily diagnosed or treated. As I started to explore alternate treatment modalities, I happened upon an article about Jim's method that piqued my interest, one thing led to another, and "the rest is history" as they say. I am pleased to report that Jacob has improved significantly through being my regular Masterson Method test subject.
Learning from Jim is like studying with a wise, sage wizard who performs magic every time he works on a horse. For me, a whole new world opened up and I learned to read horses in a way I never knew was possible. It was amazing to develop this skill and be of service to horses.
Along my path toward certification, I've met so many others in the program who have come to a cross roads in their lives and have found a calling in doing healing work for horses. My personal path has led me to explore this on a deeper level. In addition to the Masterson Method, I was also fortunate enough to study under Linda Kohonov (who wrote the Tao of Equus) and I graduated from her apprenticeship program. The fusion of these two programs has propelled me into a new understanding of what is possible with horses. The Masterson Method is unique in working WITH the horse and in striving to maintain the greatest state of health and performance for these magnificent creatures that touch our hearts so deeply.
I'm excited to bring the Masterson Method to central Pennsylvania and to work with clients who want to be more invested in their horse's well-being and performance.