Windham, Maine, United States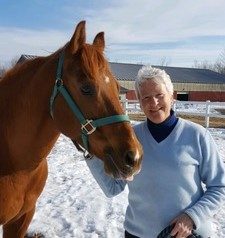 Margi (that's a hard "g" as in Margaret) rode occasionally when she was growing up in Connecticut, but it wasn't until she moved to Maine in 1975 that she acquired her first horse. From that time until 2004 there were always one or two horses at her small farm and she became seriously involved with horses. Riding hunters for 10 years and taking overnight trail rides into the mountains of 12 states with her husband and beloved Aunt Jody, she rode lots of horses and shared lots of scenery with them.
In 2009, needing a horse fix, she became a volunteer at Riding to the Top (RTT), a therapeutic riding center in Windham, ME. It gave her an opportunity to interact with the students from various walks of life, and time to be with horses in a different way. She began to understand how hard it can be to be a therapeutic riding horse and became a supporter and advocate for the horses and their well-being.
In 2017 the equine manager at Riding to the Top, Catherine Fellows, began to talk about the Masterson Method and they both thought this would be a great modality for the horses at RTT. Samantha Walker, a Certified Practitioner came to the center and did a presentation. Margi then did a weekend with Samantha to learn the techniques and began practicing on the RTT horses. In 2019 she became an Equine Specialist, as well as a Reiki Practitioner, which is a great addition to the Masterson work.
Since then, she has worked on and listened to all the horses at Riding to the Top, and loves the partnership and bond that Masterson provides to horse and human. She did her part to spread the Bladder Meridian when she practiced with a couple of horses at a barn in Ireland where she was staying. She taught the Bladder Meridian to several students at the RTT barn and looks forward to teaching again. And she always feels good when a horse relaxes enough to give a response, especially a yawn.