Austin, Texas, United States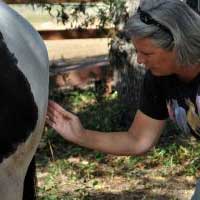 Unlike many other Masterson Certified Practitioners, my experience with horses began later In life. As a child I always loved horses and had begged my parents for a horse (along with a racoon, dog, cat and almost every other animal I came across) but it wasn't until I was nearly fifty that I began riding regularly. Two years after that I had my first horse - a bay Thoroughbred named Lockee.
When I began working with Lockee I found he was uncomfortable with the bit and stiff and sore along his right side. I started looking around for ways to help him and discovered Jim's first DVD which got me hooked on the Masterson Method. I soon realized that I wanted to go further to help my horse and took the weekend class, and then the certification courses.
Today I work part-time with my husband in our family business and part-time working on horses. I am honored that many of the boarders where I keep Lockee are clients. I love working with the horses and find there is always more to learn with each session.