Linconshire, United Kingdom, Global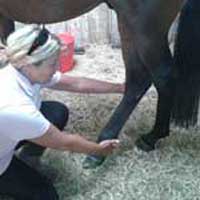 Based at Manor Farm, East Halton North Lincolnshire dn40 3ps we are a friendly approachable team, that specializes in communication between horse and human.
An inspiring natural and calm teacher Lou uses established Natural Horsemanship techniques and in-depth principles of equine behavior and psychology.
Lou is also an Accredited Trainer for Horse Agility GB
Parelli Level 1-2 graduate in 2007
Diploma's in Equine instincts and behavior
Certificate in Horse care and stable management
Certificate Horse care& Riding-Higher at Askam Bryan college york in 2008.
Diploma in Equine instincts and behavior in 2009.
Lou has attended all the Intelligent Horsemanship courses with Kelly Marks, including;
Feeding & nutrition 2009
The horse as an athlete 2009
Horse psychology 2010
She will listen to you and watch you with your horse to help resolve certain issues that we don't always see ourselves and can be so easily resolved when brought to our attention.
All this together with years of experience allows Lou to be sympathetic towards horse and owner to help you achieve a better understanding.