Bear Creek, North Carolina, United States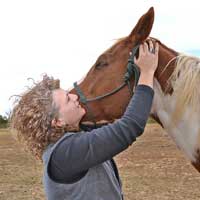 Lisa has had a passion for horses since she was old enough to talk. A lifelong pleasure rider, she discovered horseback field trials about 13 years ago which fit perfectly with her other love for competing with her german shorthaired pointers.
After growing up on Quarter horses and Thoroughbreds, she made the switch to Tennessee Walkers and hasn't looked back. Always looking for healthier ways of caring for her animals, she came across massage schools and attended her first Masterson Method™ clinic in May 2010. She was so impressed with the responses from the horses, she pursued her certifications so she could begin working horses professionally.
Poll To Pastern operates out of central North Carolina. Having experienced a back injury this past year, Lisa appreciates more than most the parallels between horse and human, how her own physical therapy was so similar in purpose and movement with this Method of bodywork. She understands the importance of keeping the horse's back supple because of how it affects their movement in other key areas. Her own horses have loved the bodywork as they prepare to pursue competitive trail riding, and Lisa begins to learn dressage.