Indianola, Iowa, United States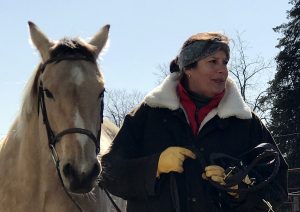 I am a Masterson Method Equine Specialist. I have loved and been involved with horses all of my life. It started with trail riding and eventually moved to riding hunter jumpers and to managing a hunter jumper boarding barn. Along this journey I began adding dressage techniques as I continued to explore horsemanship and riding. I picked up several horses off the track and began a career of retraining and selling OTTBS (off- the-track Thoroughbreds). I also had many riding students which I took to the local schooling and rated shows.
As I grew more involved with horses and people, I began seeking answers to my growing list of questions I had about horses. I became aware of a different kind of horsemanship when I met Harry Whitney, a clinician, about 20 years ago. This was a turning point in my life, as I became aware of being with the horse in a different way than I had ever been. Since that time I have hosted and attended clinics by Harry Whitney, by Kathleen Lindley Beckham, as well as other clinicians.
I have certified with PATH (Professional Association of Therapeutic Horsemanship) as a therapeutic riding instructor approximately 10 and a half years ago. And I've free-lanced at several locations including my own barn as a therapeutic instructor I have been pursuing unmounted work and have had some involvement with Faith Based EAL (Equine Assisted Learning).
I became aware of the Masterson Method Bodywork through a new friend from church that is a certified practitioner. I asked if she could come look at one of my horses. I had purchased this horse from Wildwood Hills Ranch where she had been used as a therapy horse for several years. Within a few months of bringing her home to my barn I noticed, even though she appeared sound, that she was uncomfortable. This was my first time of seeing the Masterson Method Bodywork, and from my horse's reaction, I knew I had to learn more. As I researched the Masterson Method and read about the MMES (Masterson Method Equine Specialist), I felt this was a good fit.
I am excited to incorporate the MMES techniques working with individuals and the horse. This is a program that gives back to the horse with which we all have the opportunity to learn along the way.