Gilbert, Arizona, United States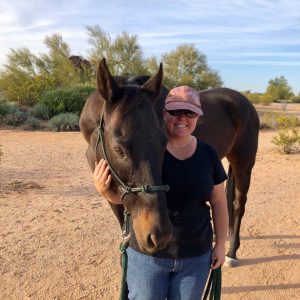 I have loved horses since I can remember and started riding when I was 8. I grew up riding hunter/jumpers but branched out into a bit of reining and working cow horse as well as dressage over the years. I have a bachelors degree from the University of Arizona in equine industry and while there, had the opportunity to learn to work with studs, start colts and work with "problem" horses as well. My first horse was an OTTB and he sparked my love of the breed. I love to rehab and retrain OTTB's and my current horse (the handsome guy in the photo!) led me to The Masterson Method®! He told me in no uncertain terms that traditional massage and chiropractic was not going to be tolerated so I went in search of a way to help him. I started slowly, just doing bladder meridian from across the stall; it was all he could tolerate at first. As I watched him melt and he was able to handle more I realized how much I loved not only helping him feel better in his body but also the way this method was allowing us to communicate with each other. I wanted more!
I jumped down the rabbit hole, watching every YouTube video I could find as well as all the DVD's available. I have always been interested in anatomy and physiology but I was inspired to deepen my understanding of equine and rider biomechanics and their connection to bodywork. The more I learn the more passionate I become about this way of doing bodywork! I became certified in February 2019 and work on horses of all breeds and disciplines! I am located in Gilbert but will travel.