Genthod, Switzerland, Global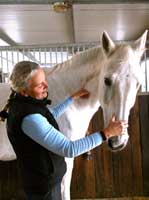 Jessica started her riding career young in life by pretending to be the horse and galloping around the back yard. She rode occasionally at a local barn and helped her friend take care of her horses.
She found her love of horses again in the Netherlands after a career in business, corporate and her own. Her equine passion took over her life in South Africa where she completed her BHS Stable Management Course. She studied with Jenku Dietrichsen learning Positive Reinforcement (clicker work) and this changed her outlook on handling horses. TTEAM practioner weeks gave her more insight into the possibility of massage for horses.
After arriving in Switzerland, Jessica certified as an EBW (Equine Body Worker) from Equinology/Equinenergy in 2006. She continued to study equine behavior at The Natural Animal Centre and other forms of releasing tension in horses naming NST (Neural Structural Technique) and Reiki. However, once she found The Masterson Method, she was hooked.
"Horses are so sensitive and intuitive. How simple is it to ask the horse what is bothering him? That is what we do with this Method - it is absolutely genius! It is integrated body work. The horse tells me where his tension is and I work together with the horse to release it. But tension is deep - it may not be the first time I work with a horse that all is released. It takes time.
Horses have helped me succeed in life even when the chips were down. Now I can give back to them with this integrative, holistic way of finding where the tension is. The Method is release through relaxation with movement and mobilization of the joints, slowly and with the horse's permission."
Jessica is proud to be the first Masterson Method Certified Practitioner in Switzerland (November 2012). Hopefully many more will follow!
She is more than willing to work with you and your horse to achieve the maximum release for both of you!