Heimbach-Eifel, Germany, Global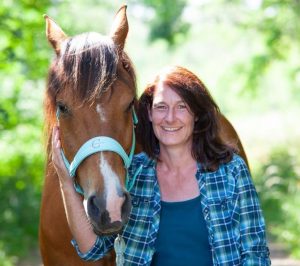 Ein Freund lieh mir das Buch von Jim Masterson "Körperarbeit mit Pferden", mit den Worten, dass das doch etwas für mich sein könnte und was soll ich sagen…es veränderte mein Leben.
Kurze Zeit danach habe ich einige der Techniken aus dem Buch an einem Pferd, welches mir sehr am Herzen liegt, ausprobiert und war total begeistert. Es war so schön zu sehen, wie das Pferd sich währenddessen entspannte und wie zugewandt es nach der Behandlung war. Da ich mehr über die Masterson Method® lernen wollte, buchte ich den Wochenendkurs.
Danach war mir endgültig klar, dass ich eine zertifizierte Therapeutin für diese Methode werden will. Die Arbeit nach der Masterson Method® zog mich so in ihren Bann, dass ich meine Karriere als Managerin in der Produktplanung eines großen Automobilherstellers an den Nagel hängte, um mich neben meiner Familie mit zwei Kindern, ganz auf meine zweite Karriere als Masterson Method Therapeutin konzentrieren zu können.
Ich bin immer wieder begeistert, was man mit dieser Methode mit dem Pferd erreichen kann. Wie die Muskulatur unter den Händen weich wird, wie sich der Spielraum seiner Gliedmaßen mit den sanften Bewegungen vergrößern lässt, wie das Pferd mental entspannt und wie sich seine Leistung nach den Behandlungen verbessert.
Was mich besonders fasziniert und was gleichzeitig die größte Herausforderung bei dieser Methode ist, dass weniger mehr ist, d.h. dass man umso mehr erreichen kann je sanfter man wird. Diese Methode zu perfektionieren ist wie der englische Titel eines Buches von Mark Rashid "A journey to softness". (Sicherlich auch ein Grund warum Jim und Mark so gut zusammenarbeiten).
Aus meiner Sicht ist die Gesunderhaltung unserer Pferde oder deren Rehabilitation Teamwork zwischen dem Pferd, dessen Besitzer, Tierarzt, Manual-Therapeut (z.B. Physiotherapeut / Osteopath / Masterson Therapeut), Schmied / Hufpfleger, Sattler und Trainer.
Ich würde mich freuen, wenn ich Teil dieses Teams für ihr Pferd sein dürfte.
English translation:
I got Jim's book "Beyond Horse Massage" more or less by chance; borrowed by a friend. He said, "Look at this, it could be something for you" and …. what should I say, it changed my life.
Only applying a few techniques, I was already fascinated what this type of Bodywork does to the horse and how positively it effects the horses mind/behaviour. It soon became clear to me, that I would love to learn more.
After the Weekend Seminar I decided that becoming a Certified Practitioner is what I would love to do to help as many horses and horse owners as possible.
I even went a step further and finished my first career as a Product Planning Manager in the Automotive Industry in order to give my full dedication to my second career as Masterson Method® Bodyworker.
Each time I work on a horse, I am still amazed by the effect this type of bodywork has on the musculature, the range of motion, the horses mind and, at the end of the day, the horse's performance. What fascinates me most and, which is the biggest challenge at the same time, is that the less you ask the more you get. It is like the Title of one of Mark Rashid's books "A Journey to Softness".  (Maybe that is one of the reasons why Jim and Mark work so effectively together.)
From my point of view, keeping a horse healthy or helping a horse during its rehabilitation is teamwork between the horse, the owner, vets, bodyworker, farrier / barefoot trimmer, saddle fitter and trainer.
I would be happy to be part of the team for your horse.