Clarksville, Maryland, United States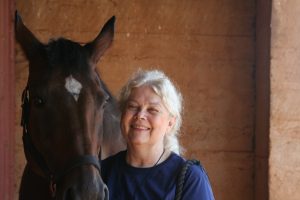 Della has been interested in horses all her life. There's a picture of toddler Della sitting on the back of one of her uncle's Percheron horses, which he bred. She, however, is the daughter of the farm kid, her dad, who moved to the city. The circle back to horses took awhile.
She was involved with therapeutic horseback riding for over 30 years as a volunteer and registered instructor. She's owned horses for more than 25 years. Lately, dressage has been her focus as a means to improve her riding skills and her schoolmaster is a challenging teacher.
With the end of a diverse business career (finance and accounting) on the horizon, Della began exploring many avenues to bring her to hands-on work with horses. A degree in acupuncture and a certificate in animal acupuncture led to studying various methods of healing touch for animals and people. Being inquisitive and analytical by nature, Della seeks opportunities to learn.
Finding the Masterson Method™ was like coming home. Partnering with the horse in this work is essential to achieving results. The horse as a participant serves to make this work so effective and deeply satisfying.
Today, Della's equine bodywork practice serves a broad array of clients from eventers and hunters/jumpers to dressage and trail horses; all are welcome; all benefit. When not at the barn, Della is likely reading an equine anatomy book or attending a clinic to expand her knowledge and understanding of the horse and its biomechanics.