St. Laurent, Quebec, Canada, Global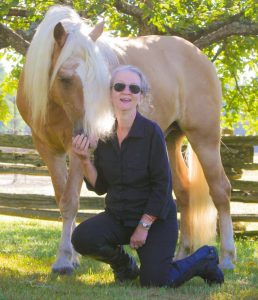 (Montreal, Quebec)
Deanna first heard the call of the horse some 30 years ago. Drawn as to a magnet by its paradoxical nature – powerful yet vulnerable – and knowing intuitively that her destiny was somehow tied to this creature, she set foot on what turned out to be a long winding road to meet the horse.
While raising children and navigating a demanding four-decade corporate career – half of those years as a self-employed consultant, she took riding lessons on and off, and seized every opportunity to ride in the high desert during vacations to the U.S. Southwest. In 2003, a cousin pointed her in the direction of natural horsemanship. Four years later, a project with a life coach culminated in a rich visual representation – 3 simple circles – of her life past and future. This work had a profound effect on her life choices in relation to horses. She searched for a program that would give focus to her horsemanship and found an answer in the well-structured Parelli program with its levels auditions. An amateur poet, musician and dancer, she discovered Liberty play and loves creating and performing choreographies with horses.
As her lifestyle balance tipped more and more in favor of horses, it became clear that she wanted to use her intuition, patience, and sensitive hands to help horses and be part of their care team. After much research, it was The Masterson Method ® that resonated with this professional communicator because of its amazing results, of course, but especially because the Method is all about softness and the bidirectional communication we have with the horse. Deanna certified in 2019 and has found her true vocation.
In addition to supporting the performance objectives of her clientele – dressage, jumpers, endurance, polo, reining, barrel racing, extreme cowboy –, Deanna contributes to the mission of a therapy organization devoted to autistic and other challenged children by keeping the barn's string of horses comfortable and able to do their job.
Deanna brings to her bodywork a keen interest and understanding of anatomy, teeth, feet, saddle-fit and rider balance. She has completed the theoretical portion of Saddlefit 4 Life's Certified Equine Ergonomist program, has taken hoof trimming courses, and will soon be certified in Photonic Red Light Therapy. A firm believer in lifelong learning, there will be more study in her future.
Although she hopes to one day put her vast business and academic experience – strategic planning, fundraising, event organization, writing, translating, and teaching – at the service of the horse community, her real passion is to share The Masterson Method ® with as many horse owners and horses as possible. Deanna serves Quebec (in French and English), Eastern Ontario and the Atlantic provinces.
Text: FB Messenger or 514 942-0121