Cave Creek, Arizona, United States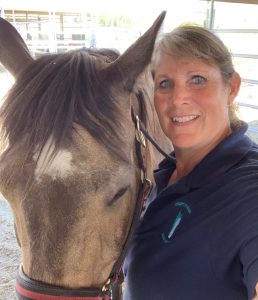 Christi has been around horses her entire life; starting as a young girl on a farm in Pennsylvania to working with standardbred race horses in breeding facilities, and breeding Quarter Horses at her family farm.
When a friend introduced her to The Masterson Method® as she was retiring from Veterinary tech work, she finally checked it out and became amazed with how a light touch and gentle methods could have such a wonderful effect on horses.
This method is so life changing in so many ways.  It slows you down, makes you pay attention to very subtle changes in the horse and in the person.  In starting her business in Arizona, she has enjoyed helping several clients and friends explore Masterson Method Bodywork for their own horses. She also loves to help others in building a sustainable business and pursue their MMCP.