Elgin, United Kingdom, Global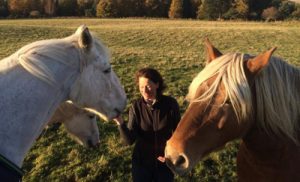 Andrea has had a passion for horses all of her life, although finances, schooling, and a youth spent as a successful age-group International Swimmer got in the way. She had to be content with watching Black Beauty on the TV and the occasional Follyfoot Christmas album; dreaming, as most little girls do, of one day owning her own horse!
In 1986 she joined the Royal Air Force and it was during her Flying Training at Doncaster, North Yorkshire, where she accomplished a childhood ambition of learning to ride. She spent the next 15 years playing 'catch-up' - enjoying pleasure riding around the countryside. After a 23-year career in the Royal Air Force flying Fast Jets, Andrea finally got to own her own horse. She now has a collection of 7, all shapes and sizes, and enjoys competing locally.
She was introduced to Masterson Method® by a 'wise-old horse whisperer' from a small village in the Highlands of Scotland, who has dedicated his life to rehabilitating 'problem' horses. Andrea was instantly drawn to learn more and enrolled in a weekend seminar - and so the journey of 'relaxing' and 'releasing' began. She qualified as a Certified Practitioner on Oct 15.
Andrea's own horses have completely enjoyed the Masterson Method® journey alongside her. She has been able to help them through various issues, and get them back to happy, unrestricted, pain free lives. Andrea regards 'The Masterson Method'® with its ethos of co-operative work with the horse, and the requirement of active participation of both parties, as one of the most effective treatments to keep horses at the top of their game or to help with recovery from injury. She continues to learn from each and every horse and is constantly inspired by their participation - and most importantly, always rewarded by the results.