Valley Lee, Maryland, United States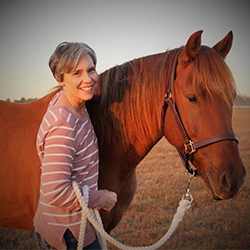 Alice Long's love for horses was ignited as a young girl growing up in southern Maryland. The country club she called home rented out horses by the hour in the summertime. Alice and her friends would help out at the barn all summer long every year, riding and taking care of the horses stabled there. Oftentimes, Alice and the other kids would ride the horses with makeshift bridles that consisted of nothing but hay strings, as during the off season, the tack was no longer available. She was more comfortable riding bareback than in a saddle.
Her love for horses continued to grow well into her late-teen years when she was finally able to have a horse of her own. She mostly enjoyed packing lunches and going on extensive trail rides with her husband and friends. She especially liked successfully showing in judged trail rides, both English and Western. For Alice, horse ownership has always been so much more than just riding. She enjoyed every aspect of horse care, which helped cultivate the love and compassion she still has for them today and has passed down to her daughters. Alice played instructor and show mom and went above and beyond teaching her daughters everything from cleaning stalls to riding patterns in the show ring.
Alice has worked for several equine stables, including assistant manager, and two veterinarians in her lifelong career with horses. The presence of the horse has always been a constant in her life. With over forty years of horse experience, Alice still has a heart for these beautiful animals. This is what inspired her to open her own practice in equine bodywork and aromatherapy. She studied essential oils extensively and began providing services, such as the Equine Raindrop, first to her friend's horses, and then it quickly turned into a professional service. With the urging of her daughter to add massage to her practice, she began her journey in this area and received certification in Equine Sports Massage and Body Balancing from the Equine Studies Institute through Breyer State University.
As Alice serviced her clients, she quickly realized that she was missing key components to being able to release deep-seated tension in the horse's body. She specifically came upon a horse that had extreme tension in the psoas muscle, restricting the horse from being able to perform as it had before. In her search of trying to find a way to help this horse and owner, she kept coming across The Masterson Method®. In 2017 Alice began her studies in The Masterson Method® and by 2018 she acquired the status of a Masterson Method Certified Practitioner. The feedback from clients has been phenomenal! Alice understands the power of equine bodywork, and it is her goal to use her education, knowledge, and experience to help our equine partners feel and perform their best!
In the midst of her case studies to be an MMCP, one of Alice's coaches, turned trusted friend and great encourager, planted a seed in her heart to consider the Masterson Method Equine Specialist certification program. Shortly after obtaining her MMCP, Alice began her journey to become an MMES. In the beginning, she wasn't sure this was the exact path she should follow but did so in hopes of one day having a chance to help others and to develop her bodywork skills further. After attending the MMES training, meeting others in the profession of EAAT and those in their certification journey, and hearing testimonies of how deeply horses heal, Alice quickly realized that it was exactly where she should be. With a background of being a victim of long-term childhood sexual abuse, and upon reflection of how horses, during those times, helped her feel connected yet free in a positive and productive way, was confirmation that this should certainly be a part of her practice and way of giving back to the horse, all the while possibly helping those with similar backgrounds. She humbly and excitedly became an MMES in May 2019.