Johannesburg, South Africa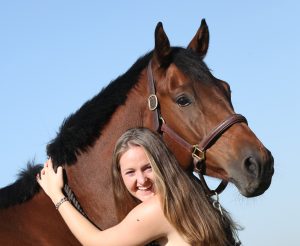 Alex has been passionate about horses from an early age, competing in all equestrian disciplines, with her great love being eventing. As Alex drew closer to choosing a life-long career, she really wanted to work with animals, particularly horses. Fortunately, she came across The Masterson Method® through Rob and Chantal Holder, and since her enrollment and involvement, she has not looked back! The day Alex was given her certification was the happiest day of her life, she cannot wait to spend her days doing bodywork and enhancing the horses' performance and abilities.
Sharing her love for The Masterson Method® with many people, she found her love for teaching and guiding people in the amazing transformations of The Masterson Method® can do for one's horse. Developing her company @Balance she has shared her passion with everyone around her. Alex works on horses that are top show jumpers all the way through to your happy hacks and retired horses. Alex loves the ability to help horses release accumulated tension gaining improvements in comfort and performance.
Facebook Page Link:   AtBalance- Masterson Method Certified Practitioner