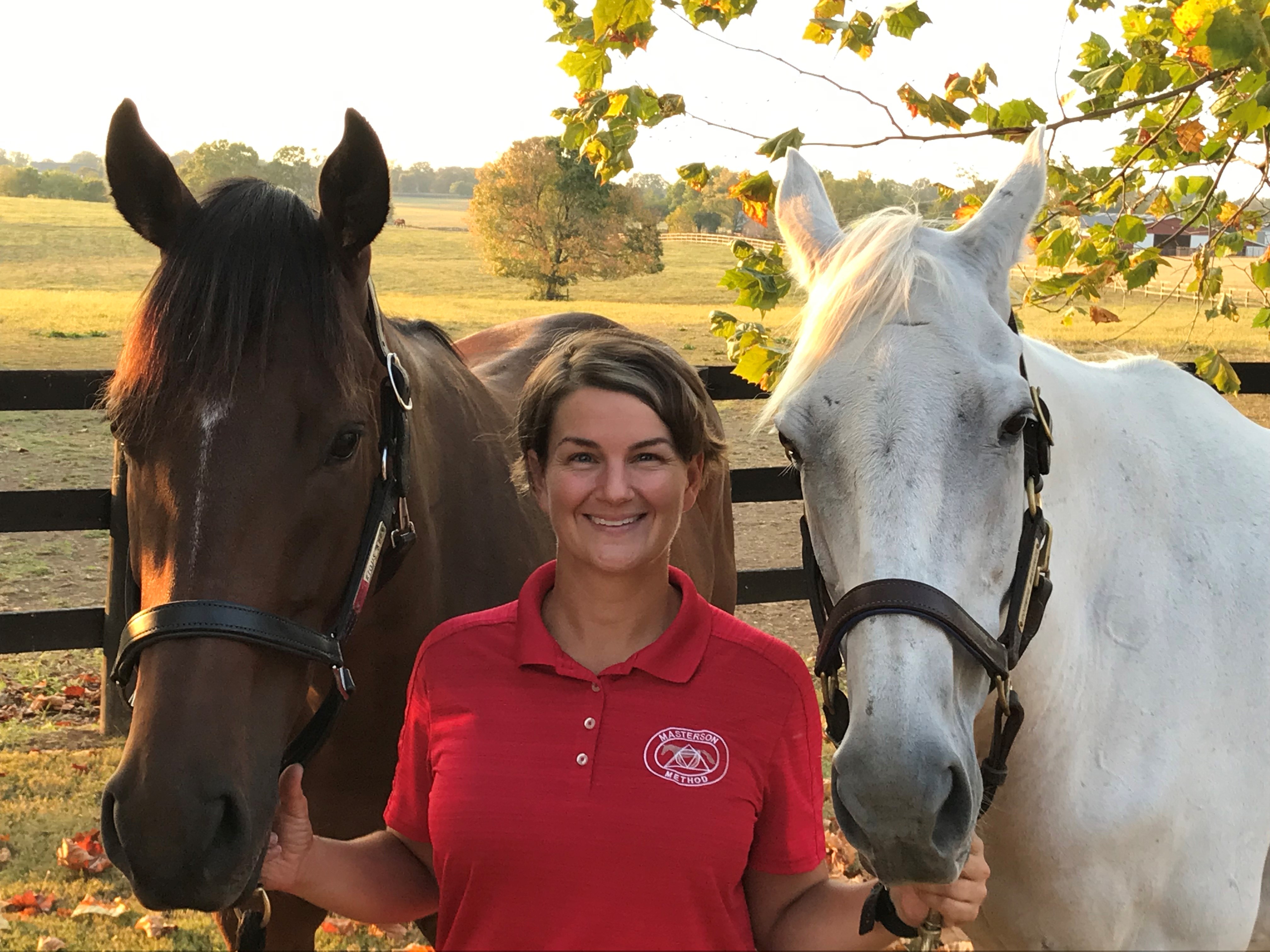 Katie Riley – Lexington, KY
MMCP
Email: kyequinebodyworks@gmail.com
Phone: 859-229-4230
Facebook: https://www.facebook.com/Kentucky.Equine.Bodyworks/
Katie believes horses are our friends and teammates with enormous hearts, and horses that exhibit "bad" behavior and uncooperative attitudes are trying to communicate that something is amiss in their overall well-being. As a Certified Practitioner in the Masterson Method of Integrated Equine Performance Bodywork, Katie's goal is to foster the partnership and well-being of both horse and rider. Katie has successfully worked with off-the-track thoroughbreds, event, dressage, hunter-jumpers, and mounted archery horses.

As a horse crazy kid with no access to horses due to family circumstances, Katie begged the owner of a nearby horse farm for a job mucking stalls. Her parents didn't like how bad she smelled when she came home, but since she could bike to and from the farm, they let her keep the job. That started Katie on a path of working to pay for her horse addiction. Katie routinely approaches others for their perspectives and expertise, and has worked as a working student for various dressage and eventing trainers.

Katie discovered the Masterson Method in late 2017 after her long time eventing partner, Harry, developed "attitude problems" and went lame. During Harry's extended recuperation, a friend gave Katie a copy of Jim Masterson's book, "Beyond Horse Massage". After trying the techniques and seeing how enthusiastically Harry responded, Katie signed up for a Weekend Seminar. By the end of the first day of the Seminar, all the horses were calm and soft in their eyes and bodies, and Katie immediately enrolled in the Advanced Practical Course with the intention of pursuing Certification.

The Masterson Method is a cornerstone of Katie's relationship with her horses and it informs her training so that it fosters their natural athleticism and grace. You can find Katie in the beautiful bluegrass of Lexington, Kentucky, where she focuses her time on her creative writing projects, improving her riding and partnership with her horses, and sharing the Masterson Method.