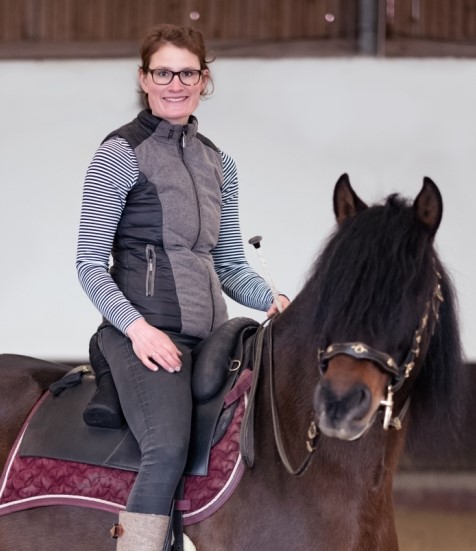 Stefanie Gottschalk – Doerentrup (Germany)
MMCP
Email: info@steffi-horsemanship.de
Phone: 0176 311 91 310
Ich bin Pferdetrainerin und Reitlehrerin. Die Masterson Methode ist fuer mich das genau passende Puzzelstueck in meiner Arbeit mit den Pferden: Im Training begegnen mir immer wieder Pferde, die Unrund laufen, Schwierigkeiten in der Biegung und beim Galopp haben oder denen der eine oder andere Seitengang unmoeglich scheint.

Meiner Erfahrung nach sind die Ursachen hierfuer (und auch fuer die meisten vermeintlichen Widersetzlichkeiten!) meistens koerperlichen Ursprungs: Verspannungen, Dysbalancen in der Muskulatur und daraus resultierender Verlust von Geschmeidigkeit im Bewegungsablauf, Verlust von Balance oder Restriktionen in der Bewegung.

Mit Hilfe der Masterson Methode habe ich die Moeglichkeit, Verspannungen zu loesen, den Bewegungsraum (wieder)herzustellen und vor allem: eine vertrauensvolle Kommunikation mit dem Pferd aufzubauen! Dadurch, dass wir mit dem Pferd und seinen Reaktionen arbeiten, ergibt sich ein nachhaltiger, positiver Effekt.



I am a trainer and I give riding lessons. The Masterson Method for me is the missing piece in working with horses. I meet many horses that move in an unbalanced way, have problems bending, cantering or with lateral movements. From my experience almost everything mentioned above has a physical cause: too much muscular tension, muscular imbalances and restriction in movement.

With the help of the Masterson Method I can help horses release tension, restore movement and--equally important--build a trusting relationship with the horse. Because we work with the horse and his reactions, the bodywork has such a positive and lasting effect.