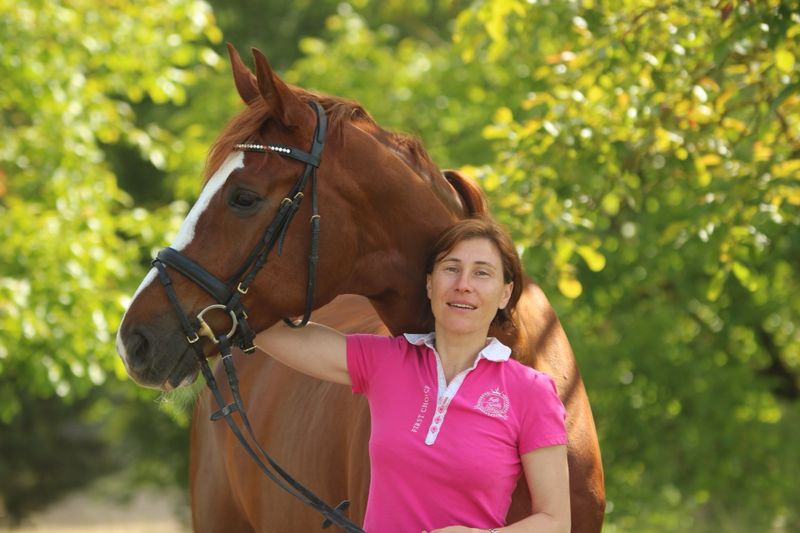 Alexandra Feix – Niedernhausen bei Wiesbaden (Germany)
MMCP, Mentor
Website: http://www.horses-in-therapy.de
Email: info@horses-in-therapy.de
Phone: +49 (0) 171 95 05 006
GERMAN: (English translation below)
Im Mittelpunkt meiner Arbeit an Ihrem Pferd stehen der Respekt vor dem Tier und der Perfektion der Natur.
Das Ziel meiner manuellen Therapie ist, die Selbstheilungskraefte des Pferdes zu aktivieren und diese optimal zu foerdern.

Die Masterson Methode ist im Kern genau das:
- in feiner Interaktion und im steten Dialog mit dem Pferd zu arbeiten,
- dabei seine Leistungsfaehigkeit wiederherzustellen und
- langfristig zu erhalten.

Nach vielen Jahren als Reiter und Pferdebesitzer, nach Abschluss einer Vielzahl profunder Aus- und Fortbildungen in Osteopathie, kraniosakraler Therapie und Akupunktur ist die Masterson Methode fuer mich das fehlende Verbindungsstueck.

Mit der Masterson Methode gelingt es in beeindruckender Weise, auch an die tiefen Verspannungen und Blockaden des Pferdes heranzukommen, um ihm seine volle Bewegungsfreiheit wieder zu ermoeglichen.
Mir ist an einer langfristigen und nachhaltigen Zusammenarbeit mit Ihnen und Ihrem Pferd gelegen. Neben der manuellen Therapie sind eine fundierte Beratung, gezielte Trainingshinweise und die Ueberpruefung der Ausruestung, z.B. Sattel oder Beschlag - immer Teil meiner Dienstleistung.
Was gibt es Schoeneres als ein gesundes Pferd und dazu einen gluecklichen Besitzer.

Weitere Informationen finden Sie auf meiner Website www.horses-in-therapy.de.

ENGLISH:
Focus of my work on your horse is the respect for the animal and the perfection of nature.
The goal of my manual therapy is to activate the horse's self-healing powers and to promote them optimally.
The Masterson Method is basically just that:
- to work in fine interaction and in constant dialogue with the horse,
- restore its performance and
- receive long term.

After many years as a rider and horse owner, after completing a large number of profound trainings in osteopathy, craniosacral therapy and acupuncture, the Masterson Method is the missing connector for me.
With the Masterson Method, it is possible to get to the horse's deep tensions and blockages in an impressive way, enabling the horse to regain full freedom of movement.

I am committed to a long-term and sustainable cooperation with you and your horse. In addition to manual therapy, well-founded advice, targeted training advice and checking the equipment such as saddle or shoeing are always part of my service.

What could be better than a healthy horse and a happy owner.
Further information can be found on my website: www.horses-in-therapy.de.