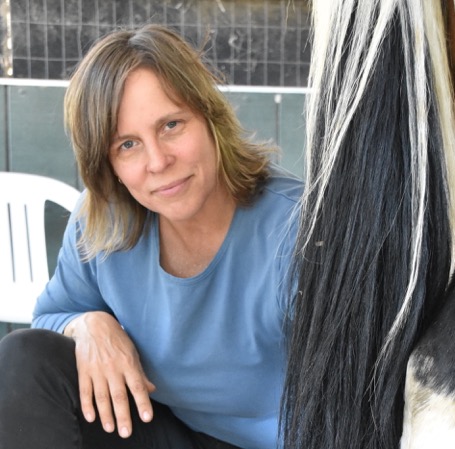 Amelia Nalli – Culver City, CA
MMCP
Email: amelia@jurifilm.com
Phone: 310-990-6673
Instagram: @equine.bodywork
(Los Angeles, CA)
Amelia Nalli rekindled her love for horseback riding when her daughter took riding lessons in 2006. From western pleasure in Palos Verdes to trail riding in the Angeles National Forest, she is now training in the elements of dressage. Amelia enjoys most disciplines of horse riding and recently acquired a traditional Hungarian horse bow. She practices archery in her backyard with the intent to shoot arrows from a galloping horse. Instagram: @equine.bodywork

An avid learner, Amelia obsessively watched natural horsemanship videos, learning techniques to upgrade her riding skills. Landing on a video of Jim Masterson demonstrating lateral cervical flexion, she immediately purchased his Beyond Horsemanship book and DVD.

The next day Amelia searched for a reaction on a horses' neck, and by the time the horse released, she was hooked. She had found the connection to horses she'd been looking for, and the technique worked on every horse.

Each day since has shown a deepening of the horse/human connection and a clearer understanding of what a horse is trying to convey through body language. While completing the fieldwork for certification, some horse owners were interested in learning about the method, so Amelia taught them the basics of Search-Response-Stay-Release. The beauty of seeing someone's face light up when connecting with a horse is her favorite part of The Masterson Method.

Amelia volunteers at the Red Bucket Horse Rescue in Chino Hills, California and at the Duchess Sanctuary in Oregon, donating massage hours for horses able to be handled by humans. This method works so well on all interactions with horses, even when a horse cannot be physically touched. Going forward, Amelia will be training in Equine Assisted Therapy and continuing to serve the needs of horses by improving their performance and enhancing our understanding of their world.