Hello All,
I HATE to start EVERY newsletter with, "Just got back from…", but I just got back from The Horse's Brain, A User's Manual clinic at Happy Dog Ranch in Littleton, CO with Dr. Stephen Peters and Mark Rashid. What a learning experience and mind-blower! I've never had so many dopamine learning hits in such a short period of time!
Needless to say, it went very well and was very useful, whether you're training, hanging out with, or releasing tension in your horse. Stephen gave a talk on human brain health on Friday evening. On Saturday morning we got a very comprehensive and well-done power point presentation on how the horse brain differs from the human brain, how it works, and why.
Lecture hall at Happy Dog Ranch
After lunch we went out to watch Mark do some round pen work that demonstrated how these principles apply to working with the horse.
In the afternoon I did a bodywork demonstration that had a whole new shade to it from the point of view of how the horse's nervous system releases tension…when you learn how to read the horse and stay "under the radar", or, in the parasympathetic nervous system. Amazing!
Jim playing with John and Bernadette's three-year old wolfhound puppies.
On Sunday we were able to see literally inside the horse's brain with a brain dissection. After lunch we had a round-table discussion and Q and A with Stephen, Mark, me, and we were joined by the founder of Natural Balance Dentistry, Spencer LaFlure.
The bad news is that you missed it. The good news is that we'll be doing it again next year. And if you can't wait until then we'll have video of the conference out in late Fall. I'd encourage anyone interested in how the horse works – and that would be everyone reading this newsletter – to do one or the other. FYI, Mark, Crissi and I are working secretly to get Dr. Peters over to do the same clinic in England. (We'll let you know how that goes – mum's the word!)
Mark and I followed that up with a three-day Considering the Horse; Mind and Body Clinic there at Happy Dog Ranch, and will be doing this clinic in the UK in Cambridgeshire on October 13, 14 and 15 – auditors welcome.
I want to thank John and Bernadette Spillane for making Happy Dog Ranch such a great place for learning and sharing. They provide the setting for a lot of volunteer therapy work in addition to education.
They recently had a Gerd Heuschmann clinic there that I didn't know about (see, I miss things, too – dammit). Maybe we can get together at Happy Dog Ranch in the future (another secret project?).
Home now and I always like to share images I come home to. Sorry, you'll have to bear with me:
Dogs helping me get the old buggy painted and re-upholstered.
Last month I had a photo here of Annabelle and Jeremiah hooked up to a tattered, old, paint-peeled buggy which embarrassed them, and me, into restoring it. I can drive into town now for coffee in the a.m., and sometimes a beer in the p.m., without at least embarrassing them with the buggy.
I will be home getting things done on the farm and in the office for most of the next two months. A lot going on now and coming up this Fall that we have to get ready for, as you'll see below.
If you're interested, here's a short video clip from 2017 Certified Practitioner Educational Conference of what goes on in the office, and what's been going on with The Masterson Method. You may have seen it, but if not, here it is below titled: How The Masterson Method got started.
The UK, Australia, South Africa and now New Zealand Seminars are coming up this Fall and Winter. Take a look at our calendar below for details on these, and more domestic activity. I'll be talking to you again soon.
Until then, like me,
Enjoy your horses.
Jim
Neuromuscular Dentistry Talk with Sylvia Read
MMCP, Sylvia Read, giving a talk at The Masterson Method Europe Educational Conference.
Sylvia completed her studies at the Centre for Neuromuscular Horse Dentistry, and was trained by Spencer LaFlure, here in the US. She is now a fully Certified Natural Balance Equine Dentist and shared her knowledge with Jim and fellow MMCP's at The Masterson Method Europe Educational Conference.
With a lifelong passion for horses, ethology and behavior, Sylvia completed studies in anatomy, equine nutrition, saddle fitting and biomechanics, and she offers many skills. She participates in competitive endurance rides and completed the Tevis Cup in 2016. She lives in the Algarve, South of Portugal, together with her husband and two horses. Sylvia and her husband enjoy trail riding all over Portugal and America.
Because of Horses Podcast
Jim joined Elise Gaston Chand on the Because of Horses Podcast, Friday, July 12.
Masterson Method Equine Specialist Program News
One Story
We'd like to share this story from one of the MMES Fieldwork students, Melody Cole. As part of fieldwork, students practice "teaching" a person how to do the Bladder Meridian Technique on a horse. Here's what she had to say:
Prior to this session, the participant had never been close enough to a horse to touch one. The photo of the mare sniffing his hand was that moment for him. The one of his hand on her forehead was after we finished the session, removed her halter, she was free to leave and go back out to the pasture with the other horses, but chose to hang around and stay connected for a few minutes before wandering off. Super cool for all three of us I think. 🙂
Starting the Bladder Meridian Technique
Finishing the Bladder Meridian Technique
The good bye greeting – choosing to stay connected
Another great group of students at this MMES Training in Ranchos de Taos, NM in June 2019.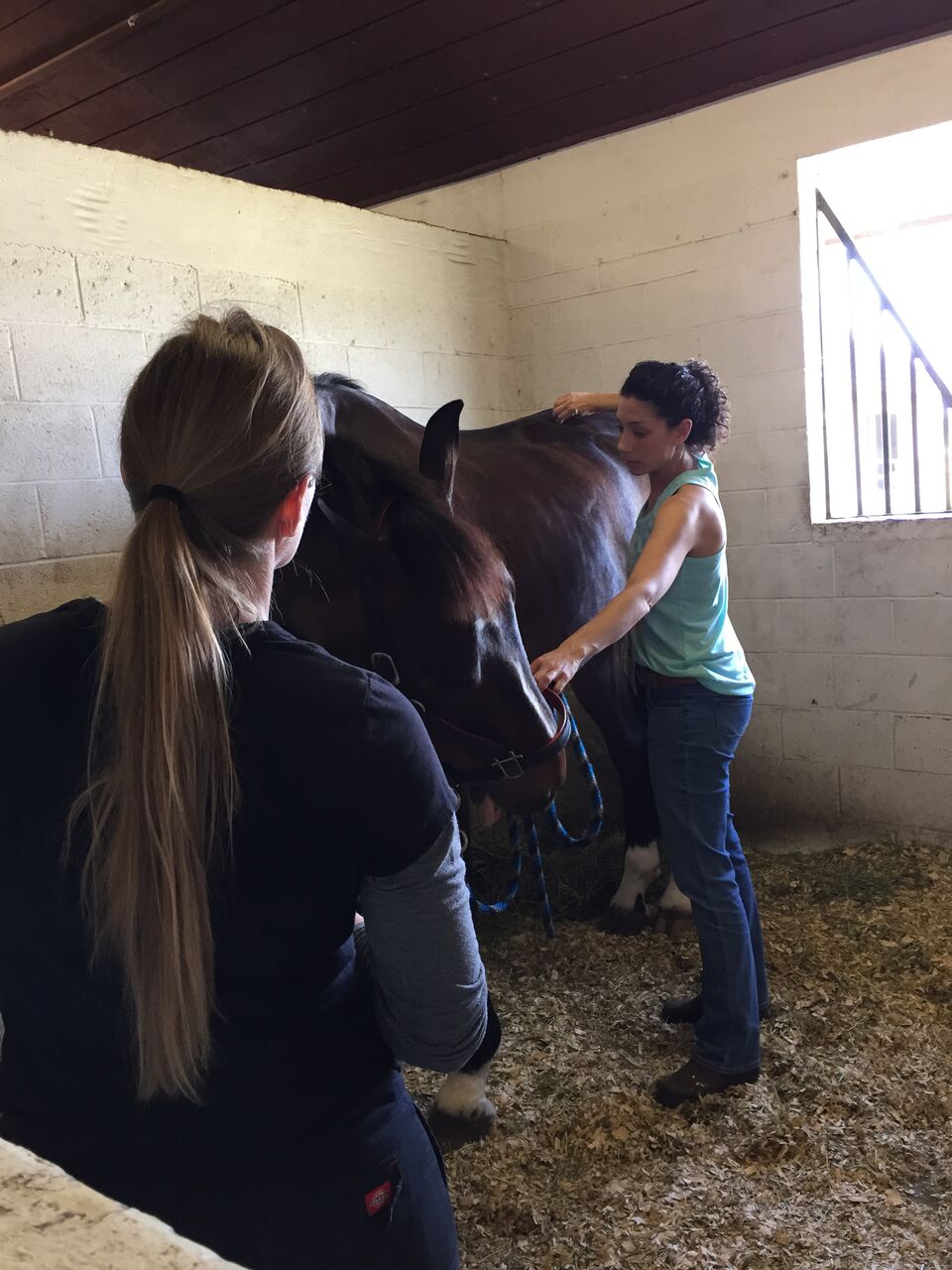 Many thanks to Ruth Bourgeois and Equine Spirit Sanctuary for hosting The Masterson Method Equine Specialist training.
Congratulations to a few new MMES's around the USA!
Lois Kral,
Yorktown Heights, NY
Lois is a retired Music Teacher who has always loved horses. After retirement, she decided to fulfill a childhood dream of learning to ride horses. As part of this journey, she volunteers at the Endeavor Therapeutic Horsemanship, Inc. in Bedford, NY. This is where she was given the opportunity to attend a Masterson Method Equine Specialist Training. After attending, she was thrilled to be given the opportunity to continue her journey and become certified as a MM Equine Specialist. She is very excited now to continue sharing her learned skills with the horses, volunteers and therapists at Endeavor.
Email: lfkral49@gmail.com
Alice Long,
Valley Lee, MD
In the midst of her case studies to be a MMCP, one of Alice's coaches, turned trusted friend and great encourager, planted a seed in her heart to consider the Masterson Method Equine Specialist certification program. Shortly after obtaining her MMCP, Alice began her journey to become a MMES. In the beginning, she wasn't sure this was the exact path she should follow, but did so in hopes of one day having a chance to help others, and to develop her bodywork skills further. After attending the MMES training, meeting others in the profession of EAAT and those in their certification journey, and hearing testimonies of how deeply horses heal, Alice quickly realized that it was exactly where she should be. Read more on the MMES website
Email: fourwhitesox@yahoo.com
About MMES
The Masterson Method Equine Specialist specializes in sharing specific light touch Masterson Method techniques with persons served in equine-assisted learning and therapy programs. By doing this bodywork on horses, participants deepen their connection with horses while also gaining self-awareness and self-regulation skills; meanwhile, therapy horses are tended to through simple bodywork and learn a new way of relating to people. It's a win/win!
Questions? Visit the Masterson Method Equine Specialist Website or contact the Program Coordinator at mmes@mastersonmethod.com.
Jim Giving a Demo at a Horse Expo
Jim shows the Bladder Meridian Technique and Lateral Cervical Flexion Technique.
To see more of Jim teaching and learn The Masterson Method yourself, purchase the Beyond Horse Massage Book and DVD.
New Certified Practitioners
Carol Cunefare 
Durango, CO
Carol grew up in St. Charles, Illinois and had the pleasure of calling Lamplight Equestrian Center home where she was a working student for many years. She began riding Hunter/Jumpers at the age of 12, and transitioned into Eventing, where she found her true passion for Dressage. She began teaching lessons at the age of 16 and was a typical horse crazy girl. She had the opportunity to travel to FL during the winter as a groom as well as traveling to many different competitions. Her love for animals was always evident and lead her into a few different career paths. Those paths have included being an Animal Control Officer for many years in CA and CO, and a Veterinarian Technician for a vet in CA that did primarily Equine Reproduction as well as a 911 Dispatcher.
Since moving to Durango, CO in 2010 Carol has been able to slowly build up her training and teaching business. Starting the MMCP program has enabled Carol to approach horse training and instruction from a whole new perspective. It has improved her eye on the ground, as well as her feel in the saddle for issues and limitations that need to be addressed. Horses are such stoic creatures and do not complain when they are hurting, and many times we do not fully understand why they are having training issues. She is able to add a different perspective to her training by keeping the horses mobility and muscle tension under control with Masterson Method® bodywork.
Carol loves to learn and is always looking to expand her knowledge with all aspects of equine care and development. She is a USDF Certified Instructor through 2nd level, USDF Bronze Medalist and she will be starting the USDF-L Judging program fall 2019. It was on the USDF website that she learned of The Masterson Method. She is a human massage therapist and was immediately intrigued when she researched MM further. The changes Carol and her clients have seen in their horses has been life changing, some of them no longer need regular injections or chiropractic care and are so much happier in their work and with life in general! Every horse benefits from this method, no matter what discipline you ride: Dressage, H/J, Racing, Western Pleasure, Endurance, or trails.
Horses have always been Carol's therapy, her teachers, and her best friends!
You can reach Carol via email or take a peek at her Website and other social media.
Website: https://www.ascendequine.com/
Email: carol@ascendequine.com
Phone: 970-946-1582
Facebook: https://www.facebook.com/ascendequine/
Instagram: https://www.instagram.com/ascendequine/
Amy Alford
Aromas, CA
I think my story starts the same way as many young girls….an absolute love for the horse. Our first true love. I think my story continues as it does for a lot of young adult women. College, starting a career, starting a family, relocating, pull us away from that first true love. The love for the horse doesn't end, the circumstances just make life with a horse a bit more difficult for a while. But, that love is always there. The story does have a happy ending…most of us are fortunate enough to rekindle that passion and find our way back to our love, the horse.
I reunited with my love of horses when I moved back to the mainland from Hawaii. There was a trail guide/boarding facility located near my home. I leased a horse named Cricket. We had an amazing time riding on miles of National Forest land. Months into our partnership, my husband was relocated to the Bay Area for work. I was so sad, I thought I was going to have to say goodbye to my best friend, Cricket. The owner of the barn knew how much I loved this horse. She asked me would I like to take Cricket with me! So the rest is history as they say. We now live in Aromas, CA, Bay Area.
Being around horses fills my heart with such joy. I kept wondering, how could I spend time with them and possibly make it my career? I thought, what about massage? I have been a human licensed massage therapist since 2000. I researched this option and began taking a distant learning course for Equine massage therapist through the University of South Carolina. I received my certification and learned a lot. But, I wanted for some hands-on learning and more to add to my tool box. I came across, The Masterson Method. Luckily for me there was a course offered very close to my home. I signed up for that first workshop and it literally was the most amazing, profound experience. It could not be anymore apparent that the horses love this work and it is highly effective. In addition to the method being so great, so are all the people that I have connected with during this journey. There is such a camaraderie that develops between your class mates, your instructors, mentors, coaches. I am now a Masterson Method Certified Practitioner (MMCP) and love it.
My goal is to be the best steward to horses that I can possibly be. I hope to use the knowledge I have learned through the University of South Carolina and The Masterson Method to help all horses I touch. I feel it is very important to the well being of the horse that the rider takes in account their own body awareness. By utilizing my education as a fitness professional and a massage therapist, I hope to raise awareness in the rider how important it is for them to incorporate a program that increases strength, mobility, flexibility and bodywork into their own lives. When the rider is in balance the horse can be more in balance. When the horse is in better balance it helps the rider become more balanced. A Synergy is created between the two that is unparalleled.
Email: amyla5683@gmail.com
Phone: 808-385-2116
Facebook: https://www.facebook.com/Synergy-Bodywork-and-Massage-for-the-Horse-and-Rider-978602422340611/
Instagram: https://www.instagram.com/amy4horses/
Weekend Seminar-Workshop Schedule
* if the course you had your heart set on is sold out, please email jo@mastersonmethod.com to be added to the waiting list, or if you'd like to host your own weekend (earn your spot free!) please email tamara@mastersonmethod.com.
USA
July 20 – 21  Portola Valley, CA
July 20 – 21  Afton, MN
July 27 – 28  Ocean Shores, WA
August 24 – 25  Augusta, ME
September 7 – 8  Neola, UT
September 14 – 15  Kerrville, TX
September 21 – 22 Coatesville, IN
October 5 – 6  Wilton, CA
October 19 – 20  Watsonville, CA
October 19 – 20  Mannington Township, NJ
October 19 – 20 Byron, MN
October 19 – 20 Molalla, OR
November 2 – 3 Tekamah, NE
February 1 – 2, 2020 Wickenburg, AZ
May 2 – 3, 2020  Milo, IA
Australia & New Zealand
September 7 – 8  Myrtleford, AU
November 16 -17  Redfern, AU
      * Note this is a Monday – Tuesday seminar. 
November 23 – 24  Yarck, AU
February 1 – 2, 2020 Boho, Australia
Europe
August 24 – 25  Bad Sachsa, Germany
taught in German
August 31 – September 1  Zandbergen, Belgium
September 7 – 8  Ruinerwold, Netherlands
October 2 – 3  Bozhurishte, Bulgaria
*Note this is a Wednesday – Thursday seminar.
October 3 – 4  Pfaffenhofen, Germany 
taught in German
*Note this is a Thursday – Friday seminar.
October 5 – 6  Oxfordshire, UK
taught by Jim Masterson
October 19 – 20  South Lanarkshire, Scotland 
taught by Jim Masterson
October 26 – 27  Großefehn, Germany 
taught in German
October 26 – 27  Miesenbach, Austria
October 26 – 27  Petrykozy, Poland
taught in Polish
taught in German
South Africa
November 23 – 24  Midrand, South Africa
Canada
September 28 – 29  Rosedale, BC
October 19 – 20 Limoges, ON
Masterson Method Equine Specialist Training
Masterson Method Collaborative Clinics
Considering the Horse – Mind and Body Collaborative Clinic with Mark Rashid and Jim Masterson
October 15-17  Cambridgeshire, UK
July 8-10, 2020 Littleton, CO
Your Horse's Brain: A User's Manual with Dr. Steve Peters, Mark Rashid and Jim Masterson
July 11-12, 2020 Littleton, CO
*Auditing is available, see links above for more information.
Advanced 5-Day Course Schedule
USA Advanced Courses
July 22 – 26  Coatesville, IN with Coralie Hughes
September 23 – 27  Watsonville, CA with Sandy Vreeburg
October 7 – 11  Manchester, NH with Samantha Walker
October 7 – 11   Coatesville, IN with Coralie Hughes
October 10 – 14   Beasley, TX with  Becky Tenges
* Note this is a Thursday to Monday course.
October 28 – November 1  Tucson, AZ with Vanessa Helvey
January 27 – 31, 2020  Watsonville, CA with Sandy Vreeburg
April 6 – 10, 2020 Wickenburg, AZ with Coralie Hughes
Europe Advanced Courses
September 30 – October 4 Oxfordshire, UK with Jim Masterson
October 7 – 11  Oxfordshire, UK with Jim Masterson
Canada Advanced Courses
September 9 – 13  Cobourg, ON with Mark Fletcher
September 30 – October 4  Fraser Valley, BC with Mark Fletcher
Australia Advanced Courses
November 25 – 29  Yarck, Australia with Jim Masterson
Certification Completion Course Schedule