Milwaukee, Wisconsin, United States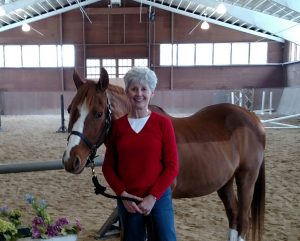 Sara grew up loving horses, riding and taking lessons as often as possible. She came back to the sport as an adult, taking lessons in hunt seat at a local stable, and leasing and owning a number of horses; she eventually taught, and then managed, the large riding school at that stable.
Sara was introduced to The Masterson Method® by a practitioner who spotted the very anxious rescue pony with which she was working. With one simple technique, the practitioner brought that pony its first moment of relaxation. Sara went to the weekend course and practiced those basic techniques on the rescue pony, who clearly benefited. She started working on other horses in the stable and saw positive results. Wanting to know more, she attended the next level course and fell in love with The Masterson Method® system and what it could do for a horse. Now a Certified Practitioner, Sara loves working on horses and seeing the positive results.