Cedarburg, Wisconsin, United States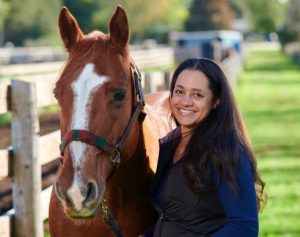 Hello!  My name is Monique Valentine.  I have recently established Copper Equine Bodyworks, LLC in southeastern Wisconsin.  My journey to help horses with bodywork began as an adult, and I have dedicated myself to learning these skills since 2015.  The Masterson Method® opened up opportunities for me to learn and grow in my horsemanship and, very unexpectedly, with knowing and trusting myself (thank you, thank you, thank you!!).
Working with and for horses has been my aspiration and being able to learn and push myself with each horse on the path to certification has been a blessing!  I am a perpetual student of riding technique, English and Western disciplines, softness and communication during the care, handling and husbandry of a herd, during groundwork and in the saddle.  I have special interests in working with rescued and aged equines, and applied anatomy and biomechanics as it relates to all forms of bodywork.
I am very excited to be able to give back to these amazing animals by sharing The Masterson Method® with all equines (and their people, too!)