White Hall, Maryland, United States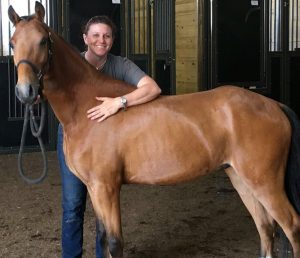 Megan was born to parents who were teachers; they knew nothing about horses but recognized their daughter's inherent love of horses and arranged riding lessons for her at age five. During her formative years, Megan leased ponies and horses from her 4-H instructor and competed in local hunter shows. Thoroughbred racing came next, and at 16 she worked as a groom and hot walker at Pimlico and Bowie racetracks. Opportunities to participate in Standardbred racing as an amateur driver at the fairs and Rosecroft Raceway also followed. When her career in teaching English as a second language took Megan to Saudi Arabia and Oman, she made horses a part of her life there as well, teaching riding at a facility in Riyadh, competing on a leased show jumper in Oman, and supporting the Omani team as they competed in Dubai, Manama, and other Gulf countries. There, she was introduced to the equestrian sports of tent pegging and endurance riding and volunteered to do administrative tasks related to competitions. Megan also ran a small therapeutic horsemanship program for children in Muscat using small donkeys in the absence of locally available ponies. Upon returning from expatriate life in 2010, Megan forged friendships in the Amish communities of Lancaster and began driving Hackney ponies. She also enjoys riding her Rhinelander gelding Lassalle, and hopes to return to the show ring with him.
Megan was introduced to The Masterson Method four years ago, and found immediate applications with it to help Amish buggy horses and their owners relate to and better understand their horses. She partners with her Amish farrier to educate and empower horse owners in the communities, and uses the Masterson Method to improve the comfort and performance of their horses. Megan also enjoys working on horses and ponies in the riding disciplines. For Megan, the Masterson Method also means passing quiet hours in barns studying equines and allowing them to teach her. As an educator by personality and profession, she is committed to her continuing development as a horsewoman and Masterson Method practitioner, and sees this unique modality as a way by which she can begin to concretely thank horsekind for the many hours of fun she has had as a competitor.