Hyattville, Wyoming, United States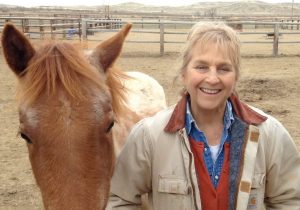 Maria Eastman hails from the small town of Hyattville in northern Wyoming. She and her husband live on the Oxbow Ranch where they grow hay, winter mother cows, and work with horses. Maria's interest in equine rehabilitation and in equine behavior led her to study the Masterson Method® since it provides techniques for the improvement of equine health and performance and also offers a unique opportunity to hear what the horse has to say.
Maria has been around horses since age 5, and has ridden and competed in many disciplines: hunter-jumper, western equitation, dressage, reining, roping, and cutting. She's managed Thoroughbred racing barns, polo teams, and has re-trained and re-directed many of these hardworking horses to new careers after retirement from competition. She and her husband Skip have followed the "Californio" tradition of horsemanship for many years, and count Tom and Bill Dorrance, Ray Hunt, and Bryan Neubert as their finest teachers (besides the horses, of course!). When hay farming and cows don't call, they both enjoy starting colts, and helping horse and owners work through problems. Maria is the Executive Director of Rainhorse Equine Assisted Services, a small non-profit offering equine-assisted counseling and education with the help of rescued, rehabilitated horses. She is eager to bring the important work of Jim Masterson to horse and humans in her beloved Wyoming.