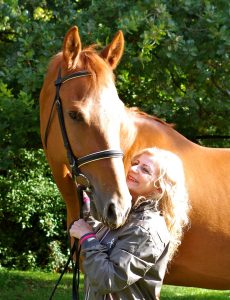 "As a Masterson Method® Certified Practitioner, it is my quest to support equine athletes from whom as riders, trainers and owners, we expect so much."
Leslie's passion for equine bodywork is founded on an accumulation of years of riding and training, but most of all her deep love and respect for the horse. Leslie has spent a lifetime studying horses, breeding horses, working with FEI high performance equine veterinarians, chiropractors and equine massage therapists.
She trained with European Classical Dressage Masters whom still greatly influence her values today. Leslie is an accomplished Grand Prix Dressage trainer and competitor, EC Gold Rider and Horse Medalist, as well as formerly a successful western trainer and competitor within several aspects of the discipline. She is an EC and USEF "S" Dressage Judge, WSDAC Western Dressage Judge and competition coach specialist. Concerned for the welfare of the horse Leslie is an F.E.I Dressage Steward.
Throughout the 1980'and 1990's she became familiar with acupressure and equine massage therapy techniques. Today Leslie continues to consult with veterinarians on acupuncture, acupressure, and chiropractic treatments to further enhance her understanding of alternative methods and effectiveness on performance horses. As an avid horsewoman of long standing within the equine industry, Leslie has developed a keen eye for biomechanics, muscle asymmetry, lameness, stiffness, tension, and behavioural issues. She continues to take various related courses.
In 2016 Leslie was introduced to the Masterson Method® by a friend and began applying it to her own horse, then other horses, then more horses as trainers began noticing the differences in their horse's attitudes and way of going. They had happy horses!  In 2018 Leslie began her journey to become a Masterson Method® Certified Practitioner. Late in 2018, while Leslie was attending her 5-day advanced course, Leslie's horse suffered a catastrophic injury. His prognosis was very poor. She persevered using her newly acquired Masterson Method® techniques determined to restore her horse's severely wasted muscle and nerve damage. Miraculously, against all odds, today Zilvano is thriving and well and able to once again perform Grand Prix Dressage movements.
Leslie says "The Masterson Method® Techniques saved my horse's life. The Masterson Method® has proven to be a very powerful, effective and amazing bodywork tool for all horses. There is nothing else like it."
Facebook: Equine Dynamic Bodywurks
Instagram:  @piaffe2008 or @dressagewurks