Hatboro, Pennsylvania, United States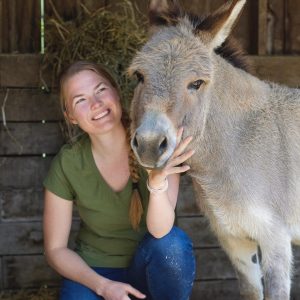 Jackie fell in love with horses at a very young age after her first pony ride at her cousin's birthday party. She later drifted away from the equine world, but returned to horses after college as an equine vet tech and then spent time volunteering at a local therapy barn. While she loved volunteering, she still struggled to find her calling. She wanted to help the therapy horses that gave so much, but wasn't sure how.
It was after the loss of her Aunt Karen that she realized she was floating along grabbing at straws to make her happy. Her Aunt had encouraged her to live the life of her dreams, to spend her days caring for horses and creating art. And instead, she was working four jobs, doing neither of those things, and utterly unhappy. Her Aunt's death opened her eyes to the importance of doing what we love now, while we still have time. It was shortly after this life changing realization that she discovered The Masterson Method®. During a visit to her favorite barn, an MMCP was working with a horse and even allowed her to try bladder meridian. Jackie was completely mesmerized and knew in that moment that this was the path she'd been looking for all this time.
Jackie finds joy in the ability to work with the horse in a way that relaxes them while releasing tension. She continues to give back to the equine therapy community that inspired her. She is passionate about her work and excited to share about the benefits of MM with anyone who peeks their head into the stall during a bodywork session. When not at the barn, she spends her time creating art for her small business The Wandering Artist JMK, LLC., and working part time at a vet clinic.
FB Kimmel Equine Services
Insta Kimmel.Equine.Services