East Hampton, Connecticut, United States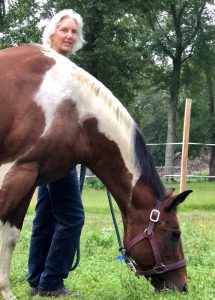 I've had a passion for animals all my life and became smitten with horses when my husband bought me a package of riding lessons for my birthday one year.  I loved everything about learning to ride, and found my "happy place" going to the barn, taking in the smells, meeting and making friends with like-mined people, and enjoying everything from cleaning stalls to cleaning tack.  I still do!  After coming home from one of those lessons, I told my husband, "I'm going to own a horse someday".  That dream came true when we moved to Connecticut and bought property with a barn.
After many years of owning and caring for horses, I learned about The Masterson Method® from my sister who bought and mailed to me the Beyond Horse Massage book.  She had seen Jim Masterson at the Minnesota  Horse Expo and knew I was having trouble with a horse I owned so she sent me the book hoping it could help.  I remember sitting up in bed that night, reading as Jim explained how to help horses relax, and studying the techniques on each page.  The next day I eagerly took the book to the barn and started Bladder Meridian on my mare.  I was so excited from the positive responses I received from my horse that I wanted to learn more and haven't looked back since!  If wish every horse could experience the magic of Masterson bodywork and hope to help make it happen.