Nashua, New Hampshire, United States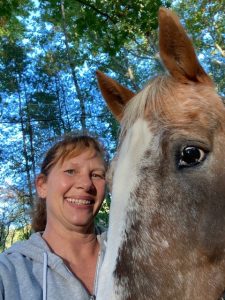 My horse journey started at age 11 with my first pony and a 4-H club.  I moved from 4-H into the Hunter Jumper / Equitation world until I graduated from college with a degree in Physical Education. Following graduate school with a degree in Special Education, my time was spent with my own family and smaller fur friends, dogs and rabbits.  As my children got older, I was drawn back into the world of horses. I had always loved Appaloosas but had never owned one.  The universe then connected me with my horse Skip, a red roan Appaloosa.  Skip has taught me great lessons that I didn't know I needed to learn. Through physical challenges in his body, I was introduced to the Masterson Method®.  Reading the Masterson Method book and watching videos, I began to see how this approach and technique helped not only him, but me as well.
I attended my first weekend seminar in May of 2021, then in September of 2021 I enrolled in the Equine Specialist course in New York.  I received my certification in December after finishing up my case studies with some wonderful horses. I now volunteer in a program in NH and love every minute I get to spend helping horses and clients within the program.  The Masterson Method® has been part of a big convergence of gaining knowledge from my physical education background, to special education, to Reiki certifications, Brain Gym Licensure and MMES certification.  This combination of skills and programs offers me so many tools that I can utilize as I continue grow.  I am so grateful to be where I am today!