Floyd, Virginia, United States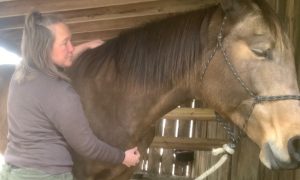 I was your typical horse crazy girl - tons of Breyer horses, making tack for them, etc. - and had some opportunities to help my sister with her horses and ride, but as I grew up, music took over as my main interest. After drifting through young adult hood, my main focus was raising my offspring - as a stay-at-home mom, I sank into the running of the household, and when my kid became interested in horses, it re-kindled my youthful passion for them as well!
Some years ago, a friend of mine introduced me to the Masterson Method® because she thought I'd be good at it (and work with her horses). My years of study in Internal Martial Arts prepared me very well for diving in to this modality, physically, mentally, emotionally and spiritually. This work benefits EVERYONE involved - the horse AND the humans! I have become a better human through this work with horses, and every horse I work with gets the experience of being seen and heard, as we foster a conversation with the horse.
Facebook page: Dragondance Equine