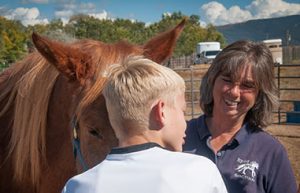 Horses have always been my biggest passion in life. Growing up in a small town in Iowa with parents who were both blind, I did not have many opportunities to be with horses. But that made me all the more determined to make horses a part of my life as I grew up. My horses have seen me through hard times, good times, challenging times, and have been my teachers and inspiration. I have been lucky to have had many amazing people who have helped me on my life journey with horses.
After getting a degree in Horse Husbandry I worked with horses, but found I did not like how horses were sometimes treated when it was a business and in the competitive world. I quit working at jobs with horses and made a living instead in printing and publishing. I did all the things I loved most in my spare time – working with kids and horses, Pony Club, competitive trail riding, raising and training my own horses, and horse rescue. That eventually led me to Taos, New Mexico where I put my life experiences and passion into founding Equine Spirit Sanctuary (ESS), a licensed horse rescue with programs for people.
I am a PATH, Intl. accredited therapeutic riding instructor and have spent years putting together an extensive program of equine-assisted activities and therapies. The two horses I raised from babies were the foundation, the heart and soul of these programs. Now all the horses at ESS are either rescues or unwanted, who found a new home and life based on holistic health care and gentle, respectful handling. The Masterson Method® is a wonderful addition to all that we do with the horses and people as well.